Picture above: Brad Ralston stands on what will be the 10th tee box at Red Feather.
Judge Smails and Brad Ralston would not be golfing pals.
Smails – from the movie "Caddyshack" – represented the stuffy, formal, rules-laden country club chief who'd melt on the spot if he saw Ralston's vision for a chunk of southwest Lubbock land.
Ralston's the CEO of Truno, a retail technology company on Slide, just south of 130th Street. Less than a mile away from his offices, Ralston and partners are building the private, high-end Red Feather Golf Club, set to open in 2023.
And yes, high-end means expensive. But not formal.
"You can go out and hit balls on the driving range in swim trunks, t-shirt and flip-flops if you want," Ralston said in his office – wearing flip-flops. "I think that's probably where golf is headed – away from the stuffy type of club."
The property – bounded by 146th Street, the dirt extension of Quaker Avenue, 155th Street and other properties to the west – will have an 18-hole golf course, clubhouse and other amenities. The course will be surrounded on three sides by about 200 homes. On the southwest corner of Quaker and 146th Street, Cameron West is opening a second Brewery Lbk and Dirk's restaurant.
Before Ralston became a successful Lubbock businessman, he was known around Lubbock as a baseball pitcher. He's a member of the LISD Athletics Hall of Fame after his excellent career as a Coronado Mustang pitcher and went on to pitch for Texas Tech.
'I feel Lubbock's ready for it'
The idea's been floating around Ralston's noggin for a while.
"It's always intrigued me and I feel Lubbock's ready for it," he said.
Ralston and partners bought land to use for residential development, but not all the land was suitable for structures.
"So we had 135 acres we needed to do something with and I saw an opportunity to say, 'why don't we build a golf course here?' So that's what we did," he said.
Ralston's a member of Lubbock Country Club, which is less than 20 miles from the Red Feather site. That's not a long drive, but as more people move further south by southwest in Lubbock and traffic increases, Ralston feels location will be an attraction for Red Feather.
But what's more important to him – location or the laid-back vibe he desires? Or is it 50-50?
"It's probably more like 100-100 percent," he said, joking, with no regard to the laws of mathematics. "I wouldn't build a golf course that didn't take this laid-back approach. And we definitely need a golf course on this side of town."
Ralston's inspiration is Bluejack National near Houston, where he has a national membership.
"It's a Tiger Woods-designed course with a unique environment and vibe. It's very laid back and I think that's what probably pushed me over the edge of wanting to do it," he said.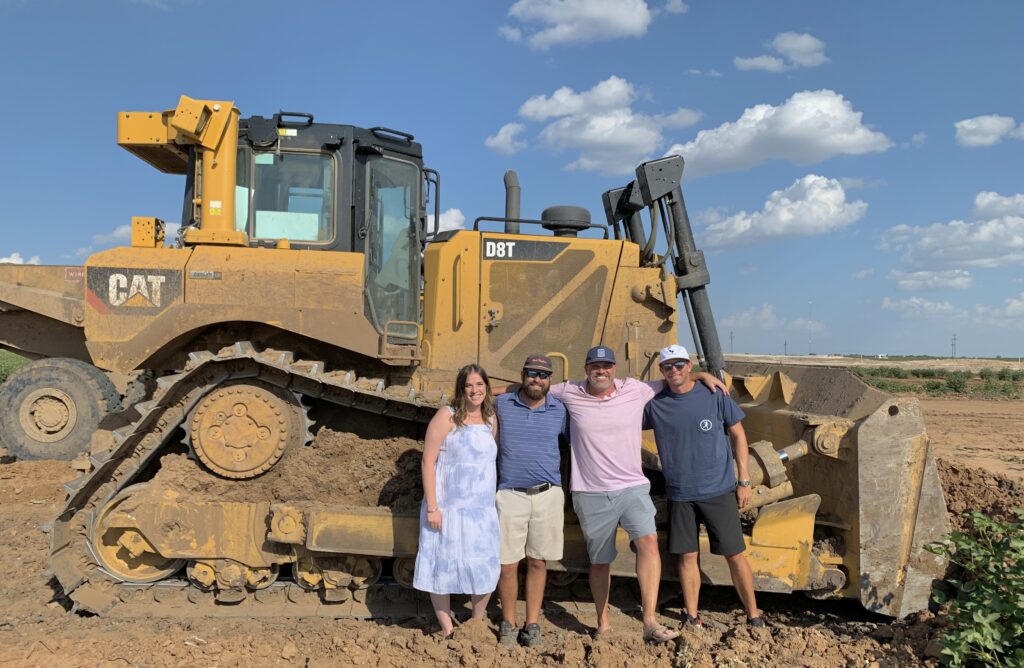 The course
Ralston brought in Tennessee-based golf design firm King Collins to create Red Feather.
"We interviewed a couple of golf-course architects and ultimately went with King Collins. They do a lot of throwback design" reminiscent of classic old-style golf courses, he said.
"It's going to be very playable. I want to have immaculate conditions. We're going to have a ton of elevation change. It's going to have barrancas that takes the water when it rains where we want it to go and will give the course a lot of character," he said.
There are also three massive double greens – which will serve two holes – at about 35,000 square feet each.
The course from the "tips" will play right at 7,000 yards with a par of 72.
Ralston's brought on former pro golfer and teaching pro J.J. Killeen, who may run the club on a day-to-day basis.
"I'm not necessarily looking for another job," said Ralston.
Like Ralston, Killeen went to Coronado High School, but Killeen was younger. Killeen's Mustangs won the state 5A title and he won medalist honors for best individual score before going to play for TCU.
The first time Ralston met Killeen was when Killeen accidentally hit into Ralston's group on the fourth hole at Lubbock Country Club several years ago. Ralston said he'd never seen someone hit it that far on number four.
Garrett Holt is the course superintendent.
Even though there's no grass for him to tend to yet, Holt's on site as big equipment shapes the course out of flat land.
"He came from Shady Oaks in Fort Worth," said Ralston, the club famed as the home course of Texas legend Ben Hogan. Another famous connection, Holt's brother Brock plays for the Texas Rangers.
Holt's also been at TPC Scottsdale and TPC San Antonio.
Red Feather could open earlier than the summer of 2023, but part of the reason it won't is the grass they've picked.
"If we were doing Bermuda grass – which we're not – we'd be open in the fall of 2022. But we're using Innovation Zoysia and T-1 Bentgrass greens," he said, adding the Zoysia is a slower-growing grass.
"But it's a better playing surface. It's firmer and faster and the ball just sits up like it's on a tee," said Ralston.
It's also harder to buy grass since the COVID pandemic drove more people back to courses where they somewhat naturally socially distance outside.
"We had a to pay a big deposit to reserve the grass," he said.
Ralston expects the driving range and short-game practice area to open sometime in 2022 and said he's talking to Cooper High School about letting their varsity teams use the course.
Even though the club isn't close to opening, Red Feather's rooster logo is making the rounds on gear.
"Seminole's Brady Shivers qualified for the U.S. Mid-Amateur in his Red Feather hat. It really caught fire. We're sending merchandise all over the country," said Ralston, crediting Killeen for building a Red Feather following on social media with more than 3,200 people following its Twitter account and more than 1,700 Instagram followers.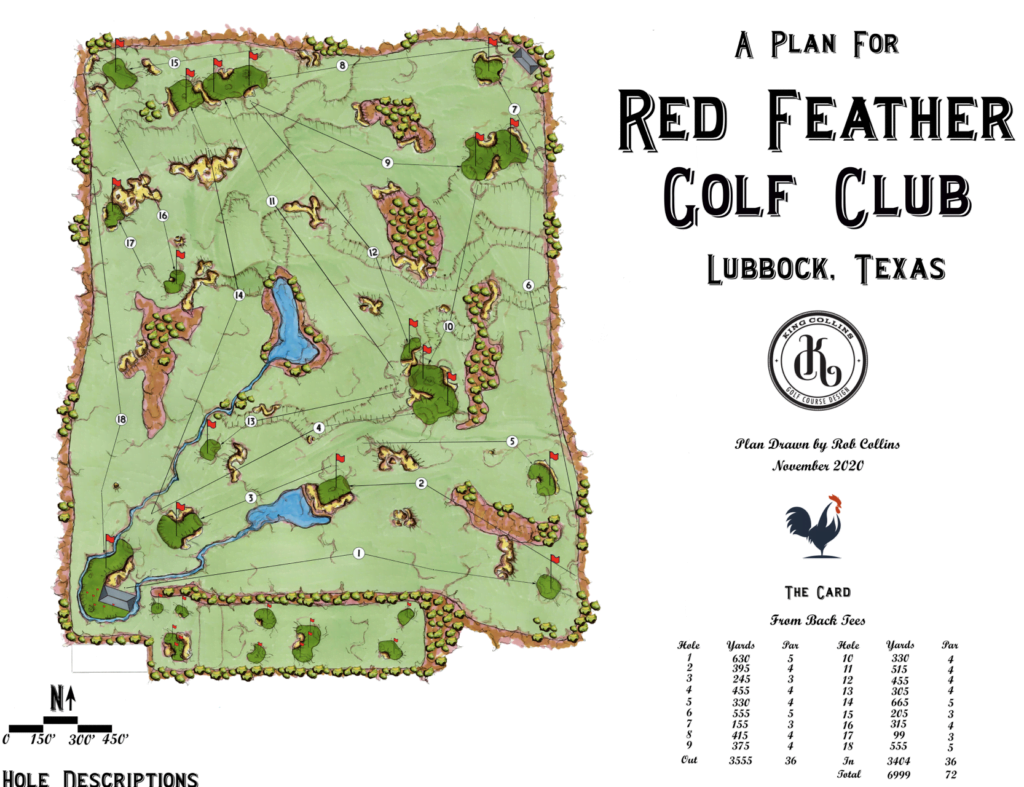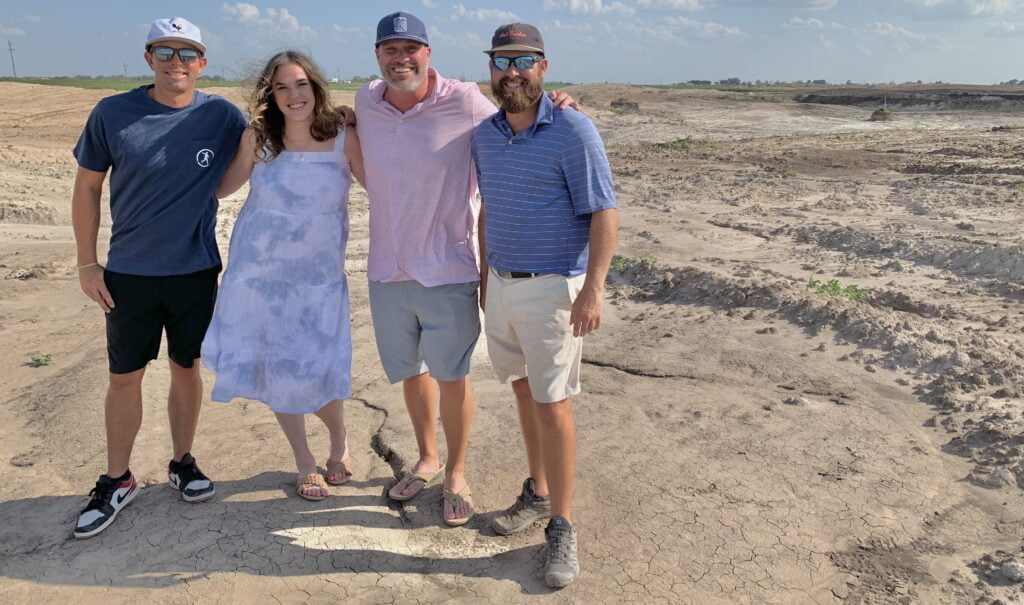 'A live-in golf community' with a DJ
Ralston and his partners sold the land south of 155th Street to Lubbock Cooper Independent School District, where a second high school will be built with sports facilities.
His project is being designed so residents can take their golf carts to the course or to the eateries on the southwest corner of 146th Street and Quaker.
"We're gonna have golf cart parking at Dirk's and the brewery," he said, adding Cooper may also have it at their sports facilities.
"I really want to build a live-in golf community," he said.
Red Feather will have a dining room, a four-room spa, pool and lazy river – but no piano.
"You walk into larger country clubs and you see a grand piano in the dining room. We're going to have a DJ booth with two turntables. That's the different vibe, but I don't want to come off like it'll be a raging party, it'll just be a different vibe," he said.
Music's important to Ralston.
"We'll have music in every room because no one talks in a quiet room," he said, emphasizing he does the same at Truno. "It frees people up to speak."
At Red Feather he expects to play Texas country music during the day, then at six p.m. transition to a Vegas-style steakhouse beat.
"There's music playing in the background, it's got a beat and you're tapping your foot, but you don't really know you're tapping your foot," he said.
Then mid-evening on weekends the scene will be more like an upscale bar.
It's expensive, but 'If we do it the way I want to, people will join
Part of Ralston's casual approach is having 350 members so it's easier to play when someone wants to play.
For example, Lubbock Country Club, he said, has about twice that many members.
"I really want to have more of a no-tee-time environment, where you just show up, hit some balls and go out when you're ready," he said.
That means more money to belong.
The buy-in is $50,000 with dues at $750 a month, which is about three times the buy-in at Lubbock Country Club.
Ralston's also offering ten memberships with a $250,000 buy-in but no dues, no cart fees, special lockers, priority for tournaments and family can join for no buy-in but must pay dues.
Ralston's sold four of the ten, he said.
There are other membership packages, including social memberships.
Can Lubbock support Red Feather?
According to a story posted on the Lubbock Economic Development Alliance website, the city was recently among 17 cities getting richer. A study done by GoBankingRates looked at 50 years of data and said Lubbock's gotten 99 percent richer over the past half century. And within the past five years, two-thirds of jobs added are $50,000 or more.
"If we do it the way I want to, people will join," said Ralston, who has a list of 200 people who've said they're interested.
"I honestly feel I have 100 memberships I'm very confident will sign up," he said.
The only feedback he's had beyond that is not to his face, he said, chatter questioning if it will work.
"Lubbock is booming. I see no end in sight for the health of our economy. There's a lot of national business located out of Lubbock. Our company services grocery stores across the United States and we're headquartered here," he said.
"Most of the income and wealth is south of 82nd Street, I would dare say south of 98th Street," he said, saying Red Feather will be within five minutes of most of the high-end housing developments. Then he mentioned New Home.
"I don't know if you've driven out there, but it's booming," he said.
In addition, Ralston said he's had some interest in from the Permian Basin and elsewhere in the country.
"The income is there, obviously and I think people are looking for high-end but not stuffy," he said about dress codes at clubs where members must tuck in their shirts.
"I think people will embrace a more casual club," he said.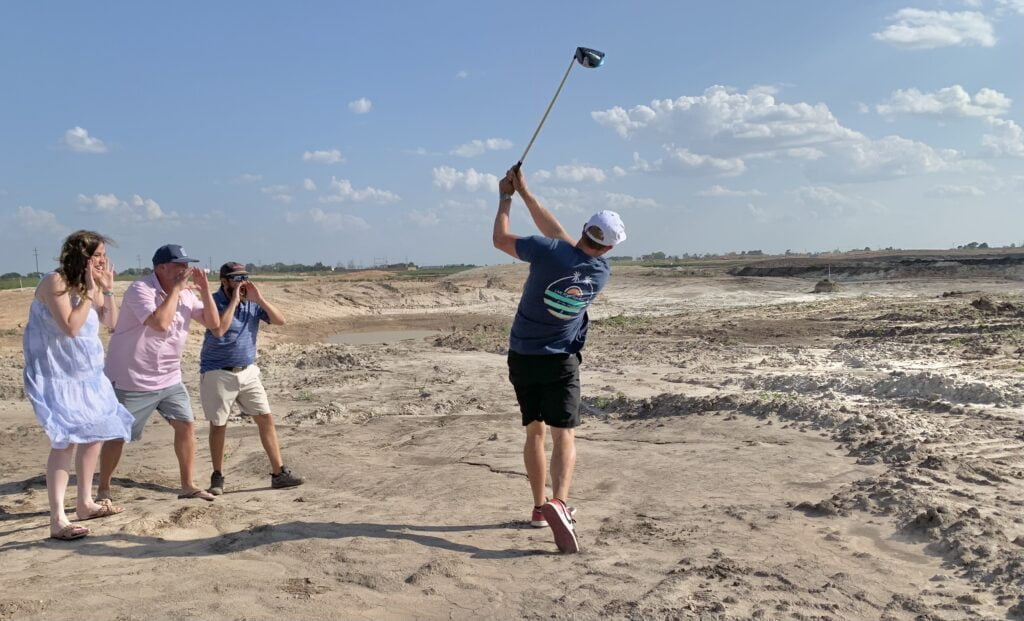 Author: Terry Greenberg
- Terry Greenberg is editor of Lubbock Lights. He worked in the newspaper industry for almost 40 years, 33 of those as editor of eight newspapers in five states. He was editor of the Avalanche-Journal from 2006-2015. He now runs his own media company, Greenberg Media Management. He's a Los Angeles native who loves living in Lubbock, Texas.