Cece McCasland doesn't need to hide her Texas Tech gear anymore.
The wife of new Red Raider basketball Head Coach Grant McCasland played soccer for Texas Tech a little more than 20 years ago. She's a proud Red Raider.
But during Grant's coaching career, he spent five years on the Baylor staff – his alma mater.
Cece was sartorially torn.
"I had to be a closet Tech fan the five years we were at Baylor," Cece said.
She was strategic when the Tech-Baylor football game was played at AT&T Stadium in Arlington during her time in Waco.
"I would have on Texas Tech socks, a Baylor t-shirt, a Texas Tech hat and just hoped everybody had fun. But I always wanted Tech to win," Cece said, adding it wasn't prudent to loudly voice that support. "My youngest son is the only one who would wear Tech stuff on my behalf."
Now all her Tech gear can come out of her closet and she can be as loud as she wants inside United Supermarkets Arena.
"It's pretty stinking cool. I don't even think I dreamed it. It's not something I would have dared to dream," she said about Grant leading her alma mater's men's hoops team, which opens its season Wednesday, hosting Texas A&M-Commerce.
Getting to know each other in church
Grant and Cece met through church activities and faith remains their cornerstone.
Grant's dad took a job at Irving's Plymouth Park Baptist Church before Grant became a sophomore at Irving High School. He hired Keith Smith – Cece's youth pastor at a nearby Baptist church.
"He was my youth pastor. I learned everything about a personal walk with God from him," Cece said.
Plymouth Park was a bigger church with lots of activities and Cece got involved in both churches.
"I was double dipping churches," she said.
Grant and Cece were in the same grade, becoming friends through Bible studies and weekend church retreats. By their senior year, they were part of a group of friends.
Grant and Cece even shared limos to go to two proms – but with different dates.
"We both didn't date a lot. I always wanted to date to marry. If I was going to date somebody, they'd have to have the qualities of a husband I wanted. And he was similar," Cece said.
Grant went to Baylor to play basketball. Soccer player Cece went to Tech.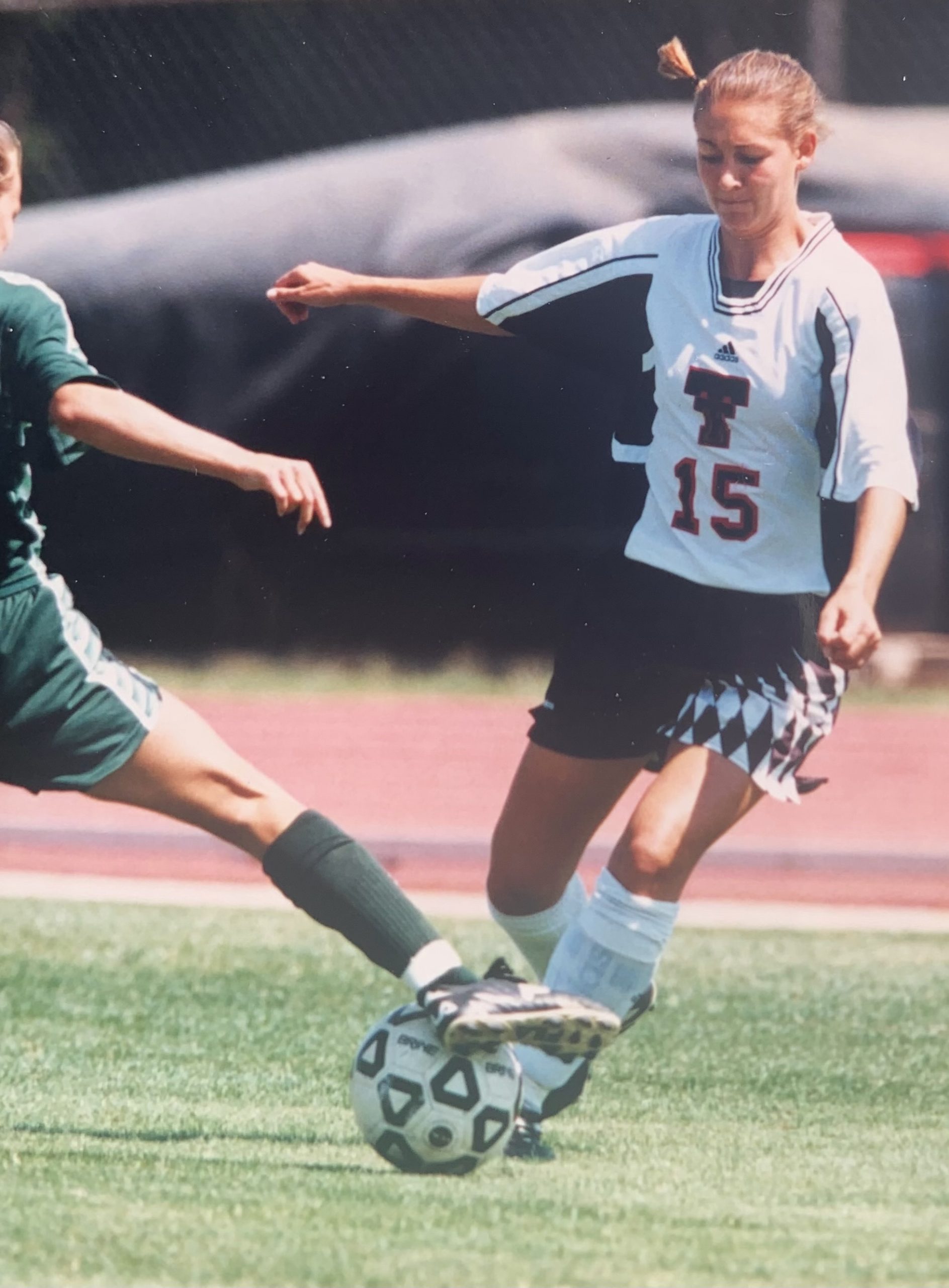 Cece (eventually) becomes a Red Raider
Cece went through the process to be eligible to play college soccer, but after talking to a few college coaches she decided not to play.
"I'd been praying and praying where I was supposed to go. I knew I wanted a big school with a big football team. I had total peace I was supposed to go to Tech," she said.
Cece walked on to the soccer team her sophomore year after she said God changed her heart.
"It's a completely non-traditional method," she said.
Her favorite moment was when her team wrecked Texas and Texas A&M in the same weekend.
"We weren't supposed to beat either of those teams, but we did it in the same weekend and it was awesome," Cece said.
Her favorite football moment while a student is one shared by countless Tech fans. Freshman Cece witnessed the late pick six by Zach Thomas to beat Texas A&M, 14-7, in Lubbock.
"We jumped so hard the bleachers broke underneath us," she said.
When Grant's Baylor team came to Lubbock, Cece would attend the game to see her friend. Grant did the same when Tech soccer traveled to Waco.
This was before cell phones.
"It wasn't like I could text him and say, 'Hey, how's it going?'" she said.
Years later, when Grant was leading the University of North Texas program, she was talking to Tech Hall of Fame quarterback Graham Harrell, then UNT's offensive coordinator.
Cece told him she was at Jones AT&T Stadium the night Harrell hit Michael Crabtree to beat then-No. 1 Texas. Grant told her she wasn't, she watched it on TV.
"That moment was so special for fans – when I looked back on it, it felt like I was actually there," Cece said, laughing.
Grant picks a career, but not with Chip Gaines
Grant was an entrepreneurship and business major at Baylor and saw three possibilities for a career – coaching, business or ministry.
"I had my own janitorial cleaning service since I was in the fifth grade all the way through high school," Grant said.
Among his clients was a preschool.
"You can imagine those are the worst toilets to clean," he said.
Grant talked to one of his Baylor friends – Chip Gaines – about starting a laundry business.
That Chip Gaines – who with wife Joanna turned home remodeling into a multi-million-dollar Waco-based business empire.
"We've been friends for a long time since we were in college," Grant said. The laundry service idea turned into University Laundry run by another friend. It was bought out by Tide Cleaners and still operates.
Grant had an opportunity to be a community pastor at University Baptist Church, which he attended as a Baylor student.
David Crowder, a successful contemporary Christian musician, led worship at the church back then.
"Ultimately, I wasn't done being part of a team. I loved being a part of a team and I love basketball," Grant said. He'd miss the competitiveness and team camaraderie – especially at the major college level.
"The intensity required and investment of giving everything you have to a group and making it bigger than yourself is something I enjoyed the most. I wasn't ready to be done with that," he said.
While playing at Baylor, Billy Gillespie was on the basketball staff – the same Billy Gillespie who resigned amid controversy from Tech in 2012. Gillespie put the Bears through six weeks of what Grant called "the most excruciating, difficult preseason workouts I'd ever been through."
He respected the process.
"I had a lot of respect for him because of how hard he pushed us," Grant said.
One day, Gillespie asked Grant what he planned to do for a living. Grant wasn't sure. Gillespie told Grant he could be a good coach.
"His compliments were few and far between," Grant said.
"I always had a better feel for what we should do than what I could actually do as a player when you're limited in size, athleticism and ability," Grant said about his 5-10 height and modest playing career.
His first step to a coaching career started at Texas Tech when he became Director of Operations for Coach James Dickey.
Grant came to work at a Tech summer basketball camp, knowing there might be a staff opportunity.
When camp finished, Dickey asked Grant if he'd be interested in the Director of Basketball Operations job, being created for the upcoming season but not yet approved. Grant said yes.
Grant went back to the Metroplex. While waiting to hear from Dickey, he interviewed for jobs, accepting one as an assistant coach at Sam Houston State.
Before he could move to Huntsville, Dickey called, told Grant the job was approved, paid $9,000 and would love for him to join his staff.
Grant said yes, then called Sam Houston coach Bob Marlin, telling him he was going to Lubbock.
"That was the first tough conversation I had in this profession because he didn't take too kindly to that, but we've become friends," Grant said, adding it was hard to pass up a job on a Big 12 Conference squad.
There was another reason for Grant to head to West Texas – Cece.
Because she didn't play her freshman year, Cece was playing her final season of Tech soccer.
Becoming a couple
Through that school year they were a couple of friends, but not a couple.
Cece played soccer while finishing school. Grant was working long hours on the Tech staff and working on his master's degree.
Cece's roommate had called Grant to ask for advice. He was returning the call when most people still had landlines. Cece answered.
"He said, 'Can I talk to Angie?'" Cece said. "I said something like, 'Hi, it's me, hello.' He didn't say how are you, how's it going?"
Then Grant decided to take this serendipitous opportunity and changed their lives.
"I told her I loved being friends with her, but it was more than that. I loved her. And she said, 'Well, I've always loved you too.' I drove to her apartment and from that day on, we knew we were going to get married," Grant said.
Until then Cece said, Grant wasn't "putting down the signs. He wasn't asking me out on a date. He was just trying to be a nice guy and drop hints. And I wasn't trying to do anything but be friends. So we missed all the cues."
Grant had even told his best friend, Cece said, he didn't think Cece had the feelings for him he had for her.
Grant came over to Cece's apartment, they talked and hugged.
"I do remember our first hug because he wasn't the kind who would hug girls. So having a first hug was a big deal because we were saying we're more than friends," she said.
Their first date was to a South Plains apple orchard.
Grant proposed to Cece atop Pikes Peak in Colorado.
"I think I told him how much I love Pikes Peak. And I remember thinking if I were a guy, I would propose to my wife up here. Grant had no idea about that, but he made my dream come true," Cece said.
Grant's coaching journey
After working for Dickey two years, Grant went to:
2001-03: Northeastern JC, assistant coach.
2004-09: Midland College, head coach, leading them to the 2007 NJCAA National Championship.
2009-11: Midwestern State, head coach.
2011-16: Baylor, assistant coach.
2016-17: Arkansas State, head coach.
2017-23: North Texas, head coach.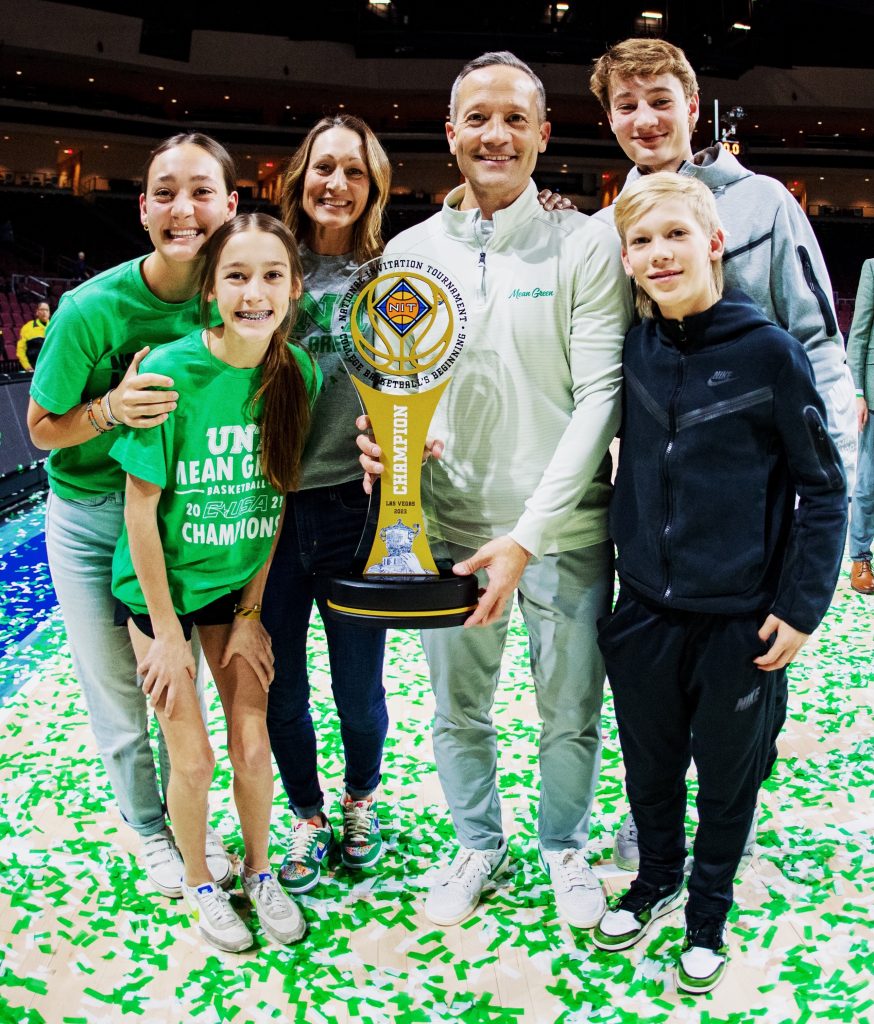 Grant guided UNT to:
The 2023 NIT Championship, shutting out Wisconsin over the final 9:07 of the semifinal game, before beating fellow Conference USA foe Alabama-Birmingham in the finals. To get to the semifinals, they beat Oklahoma State in overtime.
Its first NCAA Tournament win in 2021 over Purdue.
The nation's leading scoring defense the past two seasons, 55.7 points per game both years.
After his Midland College team lost a national tournament game on a tip-in at the end, he said he never wanted to experience that again.
"He was going to prepare. Grant's going to work really, really hard, his team's going to play the best they can. Sometimes we're going to win, sometimes we're going to lose. I kind of had the same mentality. Winning isn't everything and it isn't life and joy. But when you prepare to win and train to win, it's way more fun," she said.
Cece's invested in Grant's teams – she talks about "we" and "us" – sometimes that connection frays her nerves.
To handle nerves in the past, she's done prayer walks or stepped away during tough moments watching on a live scoring app.
She's somewhat calmer now.
"I'm 100 percent completely emotionally involved and invested, but I've matured," she said.
As Grant guided the Mean Green to the NIT title, rumors were swirling about him being Tech's top candidate. It was no different than rumors about players and the transfer portal, Grant said.
"Our guys were getting recruited to jump into the transfer portal by other universities during the middle of the season," Grant said of some Mean Green players.
Grant told his team, "Let's really pour our heart into what we're doing and when the season's over we'll figure out what's best for us moving forward."
Cece echoed her husband.
"Grant runs a team that we're all in this together. We are going to be Mean Green to the very end. Even Tylor Perry who has now transferred (to Kansas State) was probably thinking about transferring because he's had so much success. He bought in to us. If we didn't have Tylor Perry on board, he would not have made the plays that led us to the championship," Cece said.
Cece was getting texts.
"The awkward part was all my wonderful friends from Tech were saying, 'You don't have to respond, but this is what we're hearing.' I would text back, 'Thank you.' We were trying to be Mean Green," she said.
Coming to Tech and Lubbock
Grant's expectation every year is to win a national title. The resources needed to do that and conference affiliation are connected. Coming to Tech and being part of the Big 12 made it easy for him to say yes to be the university's 19th head coach.
"The Big 12 is the best conference in the country," he said, listing how Kansas and Baylor have won titles since Tech came within seconds of winning one in 2019.
"There's a history of the ability to win titles from this league," he said.
Then there's his new work home – the Womble Basketball Center.
"It's remarkable. What the Womble family has done puts Texas Tech basketball in a position to be one of the premier athletic programs for men's basketball in the country. He's definitely set the standard for facilities and expectation," Grant said.
But there was a bigger reason to come to Lubbock.
"It felt like – as a family – this was where we were supposed to be. This is where God wanted us. I know that maybe we come across as simplistic, but that's genuinely the timing of it," he said.
"My wife and I love Texas Tech. We love being in this community. This is where we wanted to raise our family. And the combination of such a great athletic department with the place where we wanted to live was the difference," he said.
Campus – and Lubbock – have changed since Grant worked for Dickey. The first seven days he was on the job in Lubbock, he was at work in the Womble Basketball Center from early in the morning to after midnight.
"One day it was about 6 o'clock at night and I said I'm gonna go drive around Lubbock because I haven't seen it. I was shocked. There was nothing past 82nd Street when I was here. There were no shopping centers west of the Loop. The community and campus growth are really amazing. But one thing that hasn't changed is you can tell this community loves Texas Tech," Grant said.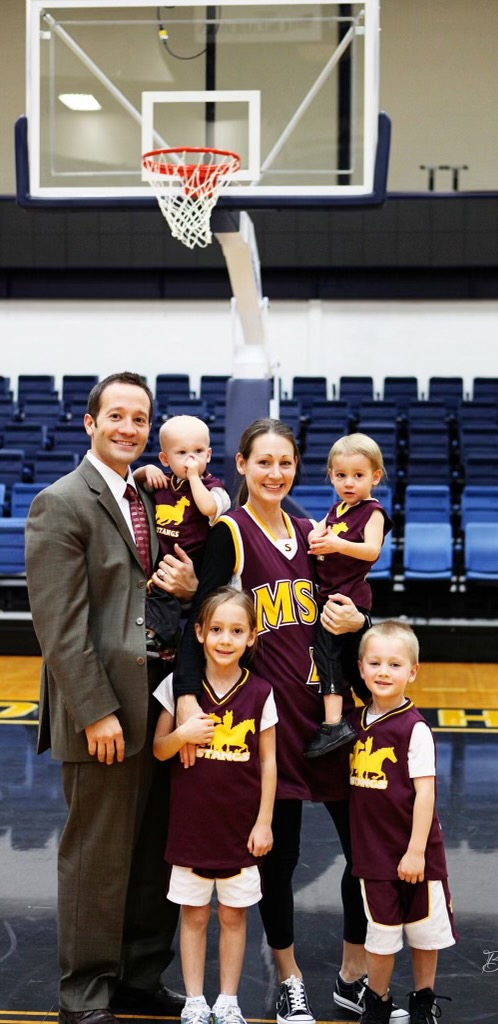 Instilling his culture
Grant's teams are known for defense, but he doesn't recruit defenders.
"When people get in our program, they realize there's a greater purpose which is just winning. What gives us the best chance to win?" he said.
Tech recruits have reached out to his former UNT players to discuss playing for Grant.
"I think what they want to hear is being part of a team that wins. Some people say they want to win but really what they want to do is have the ball and shoot. There's nothing wrong with that because you've got to have that," he said.
"But the real elite players at every level – high school, college, NBA – those guys want to win and will do whatever it takes to help the team. That's the common denominator. That's what we look for. We're looking for guys who will pour their heart into winning and those guys will find a way to improve on the defensive and offensive ends," Grant said.
Grant's message to the Mean Green through the NIT Tournament of being together is key to coaching in times of NIL and the transfer portal, he said.
"Coaching has gone from, 'Do what I tell you,' to 'we're on this journey together,'" he said. "The goal is to help our players reach their dreams of not only getting their degree – priority number one for us – but how do we help them become the absolutely best basketball player they can be in that journey?"
"If people understand that you love them and care about them it's deeper than basketball. If they trust you with things that don't have anything to do with basketball, the more they will trust you with the ability to speak in their lives on the court," he said.
Grant's also looking forward to support from the Raider Riot student section and fans, who have recently given Texas Tech one of the country's best home-court advantages.
"Whatever I can do to create momentum and excitement with that, then I'm excited to be a part of it. When we were at North Texas, we would go into the stands and be a part of them," he said.
Family is an integral part
Grant and Cece balance a major college basketball program and raising four kids by prioritizing and having the family involved with the program. Kids come to practice and are in the gym as are other coaches' families.
Their children are:
Daughter Amaris, 19, a Baylor student.
Son Jett, 17
Daughter Jersey, 14
Son Beckett, 13
"I don't think here's a greater opportunity to show what this is really all about for our players other than having our families as part of it. It speaks to what life's really about. How do you include the people you love in the journey?" he said.
Grant's also changed practice schedules to accommodate families, Cece said.
"That gave fathers a chance to pick up their kids from school, watch their games," she said.
Being married to a Red Raider and former student athlete also helps, Grant said.
"She loves Texas Tech. She loves college athletics. She was as competitive as anybody. Nobody gives me more intent questions after losses – she wants to know what's going on," Grant said.
Sports permeates the family beyond Grant's team. Because both Grant and Cece were athletes, playing and watching sports with their family is a constant.
"My dad's from Boston, so we throw hockey in the mix," Cece said. "I knew I would be married to someone who had spiritual things first, family things second and sports were going to be third, whether that was playing, coaching or having them on TV."
They also enjoy family meals.
The main McCasland family meal, Grant said, is ribeye steaks. But family recipes are a constant.
"My kids can't get enough of my mom's chicken spaghetti," said Grant, adding her mashed potatoes go with anything, but especially her roast beef.
Cece's mom has a recipe for meatballs handed down and she said, "You need to throw in his mom's lemon squares, which I think are his grandmother's lemon squares. Those are trouble. She cuts them in little bitty pieces, so you have one and you just keep going."
Author: Terry Greenberg
- Terry Greenberg is editor of Lubbock Lights. He worked in the newspaper industry for almost 40 years, 33 of those as editor of eight newspapers in five states. He was editor of the Avalanche-Journal from 2006-2015. He now runs his own media company, Greenberg Media Management. He's a Los Angeles native who loves living in Lubbock, Texas.