My favorite Bible verse is from James 1:
Consider it pure joy, my brothers and sisters, whenever you face trials of many kinds,  because you know that the testing of your faith produces perseverance. Let perseverance finish its work so that you may be mature and complete, not lacking anything.
In other words, you have a choice how you handle life when it goes off the tracks.
Which it has the last two months.
Arnis Robbins chose to innovate when the government told him  he had to close the dining room at his famed Evie Mae's Barbecue in Wolfforth a couple of months ago.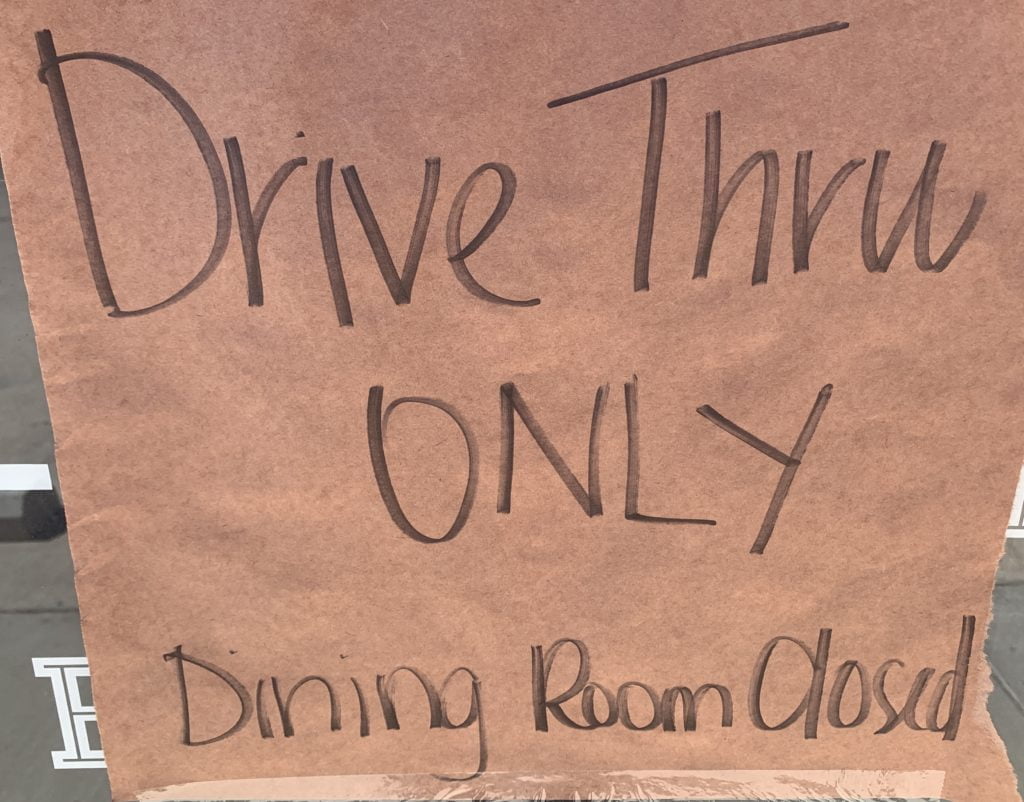 And he wonders why more restaurants didn't think outside their normal box … but we'll get to that in a bit.
"Like everybody I'd been watching the news when the coronavirus started in January with the whole mess in China and then moved to Seattle," he said.
His family was planning a gathering and a cruise around the Fourth of July and were joking about the virus messing with those plans … saying if a Democrat was in the White House we wouldn't be hearing anything about the virus in the national media.
Then the NBA stopped its season, the NCAA first said it would play its college basketball tournaments with no fans in the stands, then canceled the tournaments and the rest of winter and spring sports seasons.
That was Thursday, March 12.
"That's when the nationwide fear took over," he said.
On Friday the 13th … for those of you who are superstitious … Robbins said  "a lot of people were uncomfortable coming into our dining room because of what they'd heard."
Robbins gave people an option, using Evie Mae's trailer for drive-through.
Then dining rooms were shuttered.
Considering Evie Mae's operated Wednesdays through Sundays, Robbins had a few days to think.
His wife Mallory had built their social media presence to around 20,000 followers.
They posted starting Wednesday the 19th, they would be open for drive-through service, dishing 'cue.
They decided to open Wednesday through Saturday from 11 a.m. to selling out, dropping Sundays. Cars start lining up anywhere from 10:15-10:45 a.m. Wednesdays and Thursdays and closer to 10 a.m. on Fridays and Saturdays. The cars waiting for the cashiers to open  in three lines look like they're ready to race. The menu is above on a fork lift.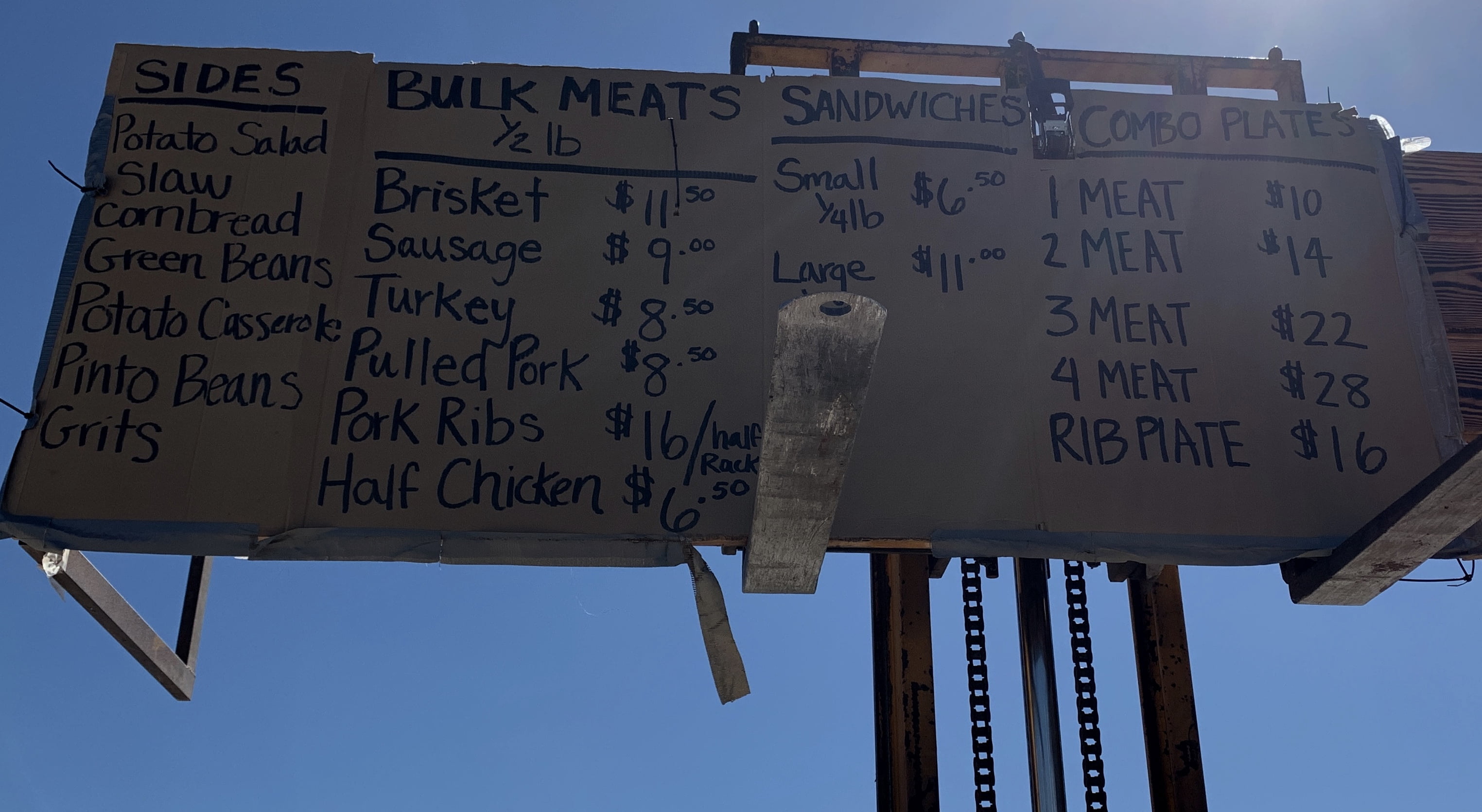 "The transition was like building a business. You never step back so far as to scare you. Just do what you can do today. We're super fortunate we have this ginormous parking lot and area so there's place for cars to pull through. Not many restaurants can do that," he said.
Evie Mae's set up three cashiers for three lanes. Each cashier had a cutter, person to dish sides and runner to deliver to the vehicle that had just ordered and paid.
"We didn't know how it would work out, but we'd figure it out as we went forward. Our customer base was very appreciative and supportive and happy we figured out how to make it work," he said.
The process isn't that much different than a pre-virus trip to Evie Mae's … except instead of standing in line to order, get your food and sit down, you do the same in your vehicle.
"Barbecue lends itself to that. The only thing left is the plating," he said.
Evie Mae's set up sanitation stations indoors and outdoors, cashiers sanitize between transactions and all food prep people wear gloves, he said,
This was more than just keeping his business going … although that's important.
It was also serving the community.
"I told Mallory we can serve burgers one day, catfish, steaks," he said, saying for some people, they were just excited they could still go out and get food. That meant even if they got something else from Evie Mae's than the barbecue ranked the state's 9th-best in the 2017 Texas Monthly "The Top 50 Barbecue Joints in Texas."
"Anybody with a commercial kitchen and groceries had an advantage to serve the community. So many didn't try to adapt and closed," he said. But some did, creating family meals and many offered curbside or drive-through. Some, though, couldn't see past the full menu they'd been serving.
'We didn't have a Plan B. No way we were going down without fighting.'
"Maybe they could afford to do that. We didn't have a Plan B. No way we were going down without fighting. When you don't have a Plan B you're able to get over a lot of stuff," he said.
Robbins also said something else I found fascinating.
"Going curbside is the equalizer between fine and casual dining. Whoever did it best would capture market share," he said.
Evie Mae's has also tried a few special things … two reservation drive-through dinners and fried catfish on Fridays that started the first Friday of Lent.
The first reservation dinner was prime rib and chicken. Robbins said it went well.
They got a little "over-ambitious" with a prime rib-steak dinner and sold out before all the reservations were filled.
"But everybody went home with a meal," he said.
On Good Friday, there was a two-hour wait, but Robbins said the usual wait is no longer than 45 minutes.


For now, Robbins says he's not ready to open the dining room.
"At 25 percent capacity, it doesn't make sense compared to what we serve with the drive-through.  Unless we can open 75-100 percent we'll continue to do what we're doing, If we had the ability to do both, we would … but we can't do both," he said.
Robbins also feels there was an overreaction to the virus.
"We're not like New York City. It's created a stigma in the public. Whenever we do open, it'll be a long time until we all return to what normal used to be," he said.
Robbins praised Evie Mae employees.
"Nobody questioned a thing and everybody was ready to do whatever was needed to get through this," said Robbins. "They're enjoying the challenge of doing things we have not done. Each cashier team is competitive on how many orders they get and getting them correct."
And there have been other innovations.
Two Docs has been selling its local beer via the drive-through.  Restore has been offering B12 shots.
Then there's Market Street, which has been offering Evie Mae's.
"The first delivery April 23 sold out in 30 minutes. We tripled the size two days later and sold out. That's when I realized this is a viable sales outlet and we have a product the consumer really, really wants," he said, praising Market Street for passing on all the money to Evie Mae's.
Robbins said his business is down about 30 percent, but that's mostly catering.
"By COVID standards, we are doing fantastic," he said.
"We're trying to figure out the new normal. We get through each day," he said.
Robbins has wondered about supply chain issues.
Last week, Evie Mae's Facebook said they couldn't get their normal St. Louis trimmed pork ribs and had full spares instead.
"But what if we can't get pork ribs for three weeks, what if we can't get brisket or chicken?" he said.
If the last two months are any indication, they'll figure it out.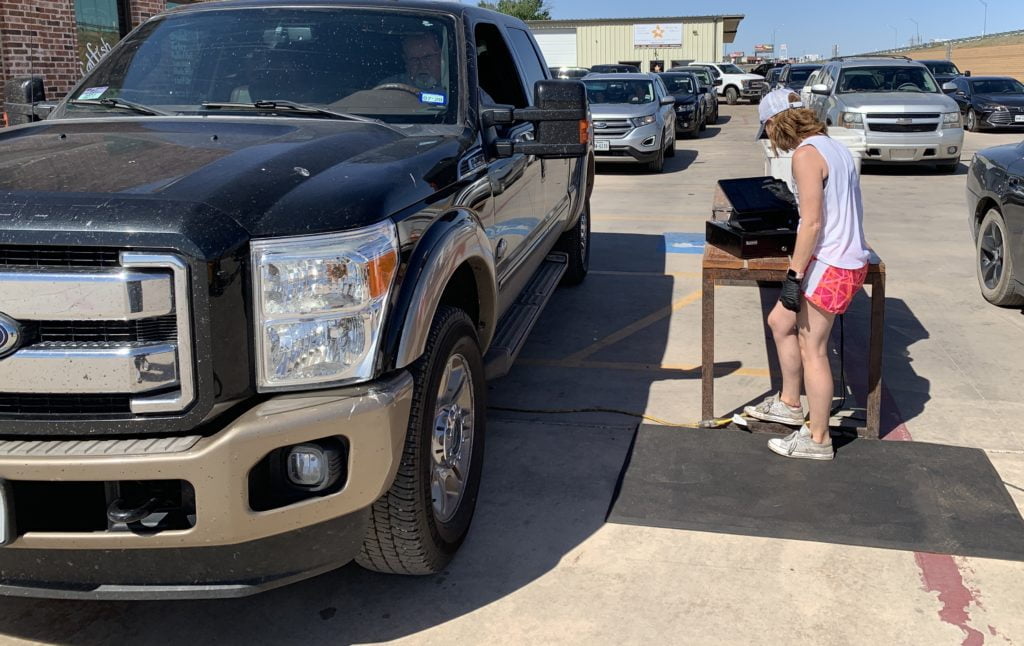 Author: Terry Greenberg
- Terry Greenberg is editor of Lubbock Lights. He worked in the newspaper industry for almost 40 years, 33 of those as editor of eight newspapers in five states. He was editor of the Avalanche-Journal from 2006-2015. He now runs his own media company, Greenberg Media Management. He's a Los Angeles native who loves living in Lubbock, Texas.