Chicken fried steak and beer.
If we caught your attention, please join us on a unique Lubbock journey.
Lubbock Lights pondered a story for this day – Chicken Fried Steak Day in America and Texas – that wasn't another recitation of the popular dish's history and we wondered?
What Lubbock-produced beer is the best pairing for chicken fried steak?
We asked some of the local brewmasters who are giving Lubbock a growing reputation for craft beers, including two also serving the dish.
Dirk's: Doc Chilton
Dirk's – its full name is Dirk's Signature Chicken and Bar – is named for Lubbock legend Dirk West, former mayor best known for his sports and other cartoons in the Lubbock Avalanche-Journal. One of his 'toons inspired Texas Tech's Raider Red mascot.
Dirk's is owned by the cartoonist's grandson, Cameron West, and Dirk's art covers the walls.
West also owns The Brewery LBK in the historic Pioneer Building next to his first Lubbock restaurant, The West Table.
His vision for Dirk's – outlined in this 2020 Lubbock Lights story about Dirk's – was a place where "a good 'ol cowboy having a chicken fried steak next to a hipster having a gluten-free lunch and everybody gets along."
Dirk's offers chicken fried steak fingers with jalapeno cream gravy.
Sally Taylor, Brewery LBK brewmaster, recommended the Doc Chilton beer accompany the dish.
"It really does go well with chicken fried steak. It's just a nice light summer ale," she said. 
The beer is named for the Chilton cocktail – lemon, vodka and soda water in a salt-rimmed glass. The story is someone named Doc Chiton ordered this concoction at the Lubbock Country Club years ago. The drink gained lore all over Texas.  
"Super simple," Taylor said of the cocktail. "So, when I made the beer, I wanted to make it super simple as well. For people that don't necessarily love craft beer, it's a nice light, easy drink. It's not overly beery, or malty. It's nice and dry. So even someone who is not fond of craft beer really tends to like the Doc Chilton."   
The lemon stands in contrast to the fat in a chicken fried steak, Taylor said. If you're not a big fan of lemon in your brew, Taylor recommended Broadway & K as a second pairing choice.
"I don't think any heavy beer should go with any fried food. I just feel like you're just piling heaviness on top of heaviness." Taylor said.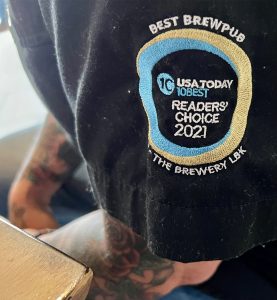 Originally from Northwest Minnesota, she served in the army. Later she was covering sports, specifically body building events and moved to Lubbock for a relationship.   
"I sort of fell into the professional brewer position by accident," Taylor said. 
When West expanded beyond the West Table and opened The Brewery LBK, Taylor was already a fan. 
"Then something happened where his brewers walked away about a week before they were gonna open," Taylor said.    
She had previously been home brewing and then found herself with a group of 20-somethings. By the end of a month, she was the only one left. 
"It was just hard work. It's manual labor. You know, it's not glamorous," Taylor said.  
As she talks, Taylor wears a patch on her sleeve: "USA Today 10 Best Reader's Choice 2021." 
The Brewery LBK was No. 1.  
Triple J: White Gold
Lubbock got started in the craft beer business in the 1990s when Mike Sipowicz put brewery equipment in the building that since 2006 has been known as Triple J Chophouse & Brew Co.
"If the chicken fried steak is more on the light crispy side, has a white gravy and that sort of thing, it's probably going to pair better with a golden ale or White Gold," Sipowicz said.   
Lubbock's original commercial brewmaster recommends something slightly different for a darker chicken fried steak which perhaps comes with a darker gravy. He would then recommend a Marzen – a medium-body brown beer.  
"You gotta match the heft in the body of the food with the structure and body of the beer.  You don't want either one of them to stand out. You want them to complement each other," Sipowicz said. 
"White Gold  is kind of our version of a craft Michelob Ultra," Sipowicz said, adding the grains are grown and malted in Texas.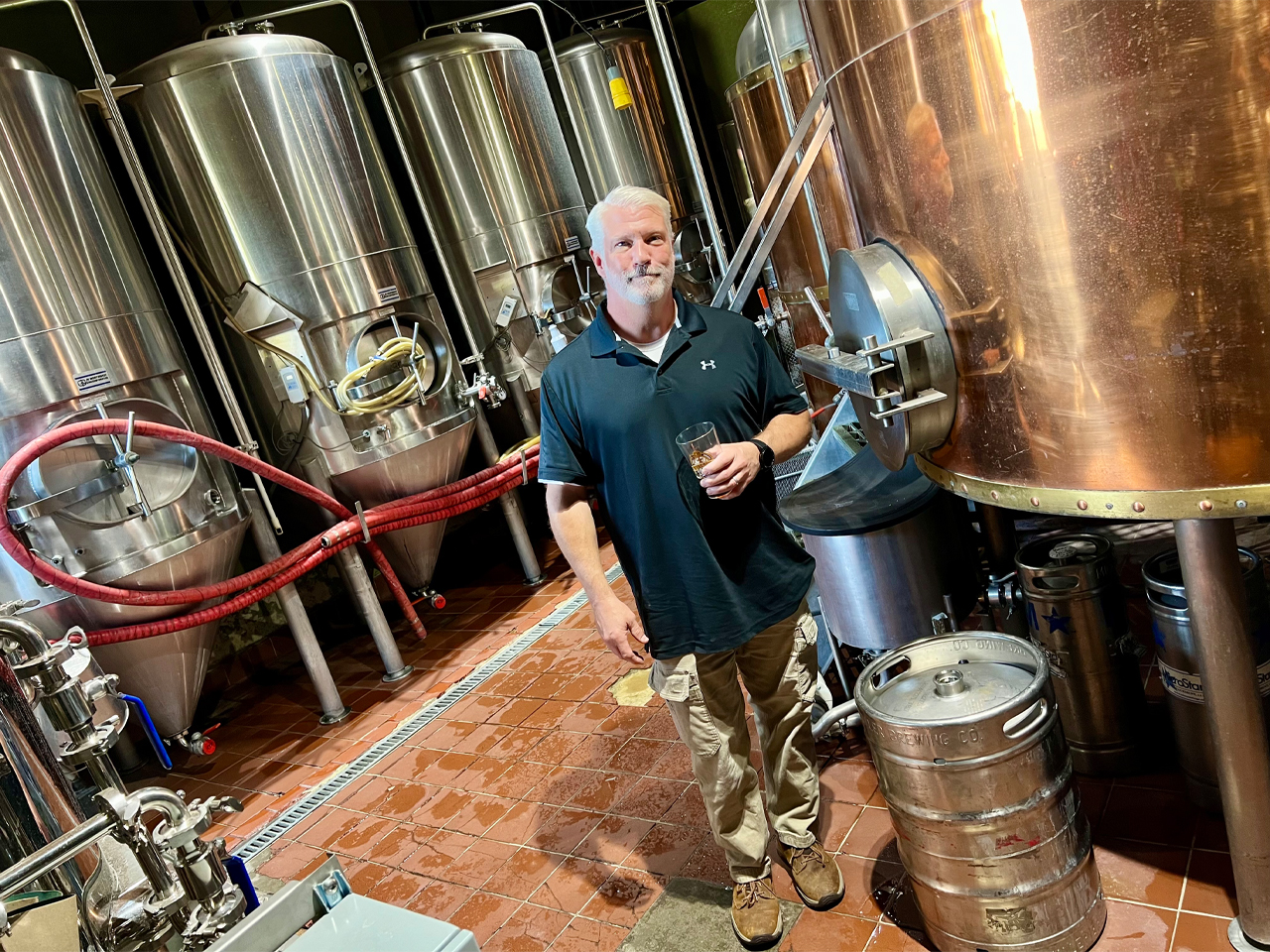 Tish Keller, owner and operator of Triple J, said when they opened the restaurant 17 years ago, her husband questioned the need for chicken fried steak on the menu.  
"You live in Texas, and I'm from here, and we're having a chicken fried steak no matter what," Keller said.  
"It's the number-two seller," said Keller, from Lamesa – the home of chicken fried steak, or so the Texas legislature declared.    
A few decades back, Sipowicz worked at Caprock Winery under Kim McPherson, then went off to college at Texas A&M.   
"He called me up and said, 'Hey, we're going to start a brewery in Lubbock. Won't you come out?'"
"Let's do it. I've been brewing and making wine for the last 30 years," he said.   
"We are kind of like evangelists," Sipowicz said.  "We're converting people slowly, you know."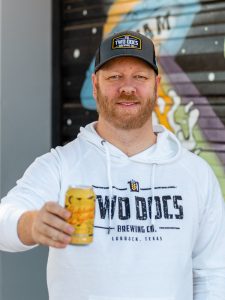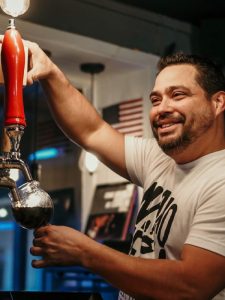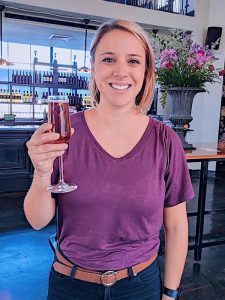 Two Docs: Doktoberfest
Eric Washington, general manager of Two Docs, recommended his Doktoberfest beer.    
"I think that's a perfect pairing," said Washington. He described the beer as malty with a bit of hop flavor – a solid staple sort of beer. It's a heavier beer, which is a different opinion from Taylor's choice of a lighter brew to accompany the famous dish.
Both would agree, as Washington said, "Pairing can really make or break the experience."
Washington said of himself and his partners, "We used to home brew for quite a long time in the backyard as a hobby."   
It became a business.   
Mano Negra: Ma's Cream Ale
The recommendation at Mano Negra is Ma's Cream Ale.
It's a light beer with a sweet bready-corn taste, said owner Daniel Badillo.    
Badillo thinks his brewery – in Cactus Alley – is possibly the smallest in town. He'll occasionally bring in food trucks, but his business is strictly beer. 
Frost Brewery: The Flying Tortilla
"The Flying Tortilla," said Kayla Frost, co-owner of Frost Brewery with her husband.  
"A very light and crispy, citrusy beer – that would be the perfect pairing to do with a chicken fried steak," said Frost.   
And yes, with a name like Flying Tortilla, the name comes from the tradition of Texas Tech fans throwing tortillas onto the football field at home games.  
'All of the sudden' 
The brewmasters with whom we spoke described a much greater awareness in Lubbock of craft beers recently. Wineries took root first and breweries came after. For a while Sipowicz was the only one commercially brewing craft beer in Lubbock.     
"All of a sudden, just in the last six years, look at how people have come on board. This is actually a really exciting thing for this region," Sipowicz said. 
"Truly there is a beer for everything. That just makes both the beer and the meal sing," he said.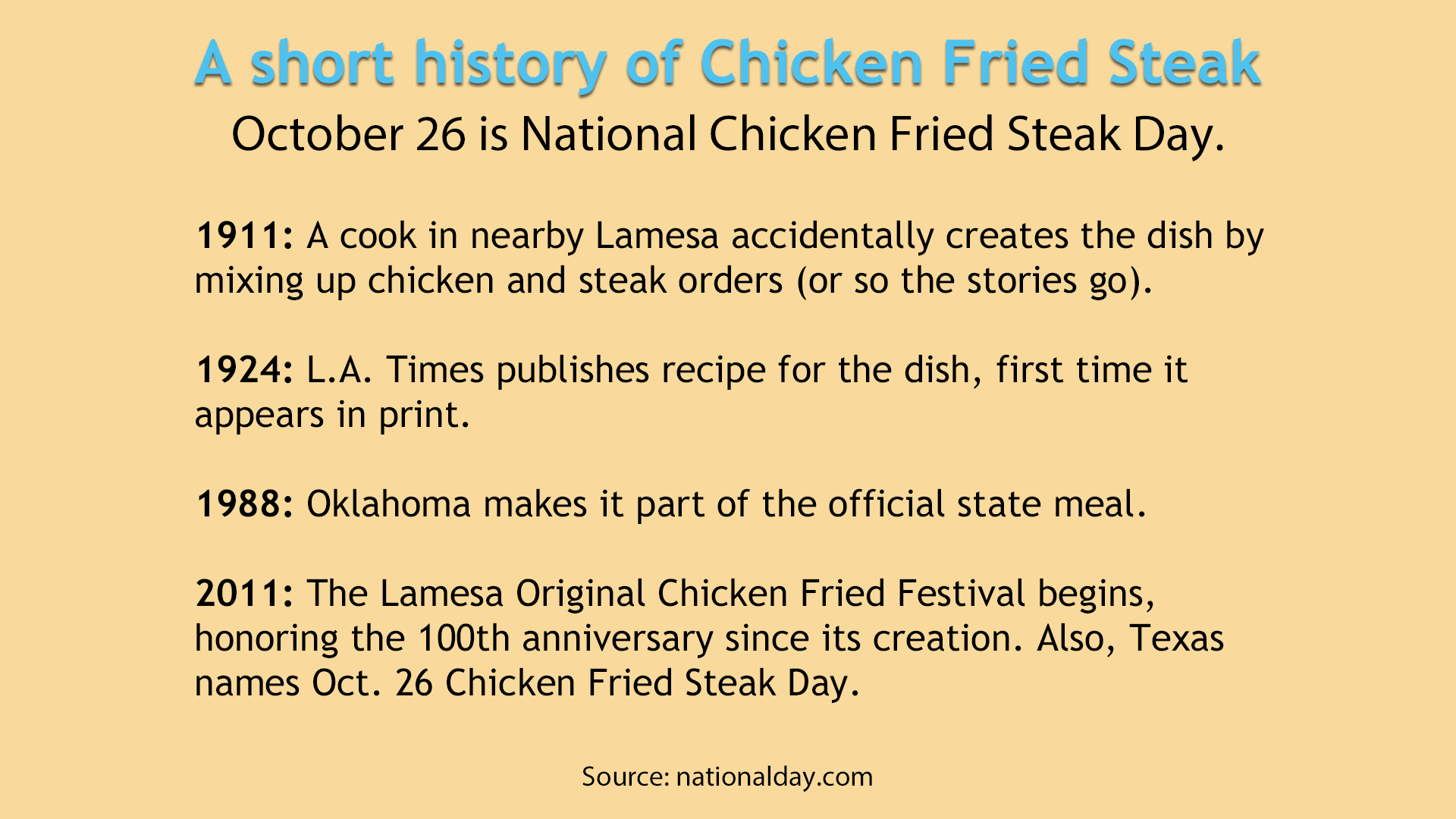 Author: James Clark
- James Clark is the associate editor of Lubbock Lights. He worked in radio, television and digital media for a combined total of more than 30 years. He was Director of Digital News Content at KAMC, KLBK and EverythingLubbock.com for nearly 10 years.