Before and after school, Woodrow Road looks like rush hour in Austin or Houston – long lines of cars inching along – and improvement is not going to happen next week or next month.
Also, it's going to cost more.
Work is starting a year later than originally planned and four-plus years after voters easily approved an almost $100 million bond, part of it transforming the road from a two-lane patch of asphalt to a five-lane thoroughfare.
Those two lanes have not been safe.
From 2014 into this year, two people died in crashes on or near Woodrow Road, and 96 people have been injured, according to the Texas Crash Records Information System (CRIS).
"Currently, the condition is one that I don't feel is very safe for teenage drivers, certainly don't feel safe for the amount of traffic that we have on the road," Keith Bryant, superintendent of Lubbock Cooper ISD, told Lubbock Lights.
The Woodrow project and Cooper's new Liberty High School were not planned to be done together. And Cooper could not wait because it needed the new school to keep up with Lubbock's growth.
A Cooper parent who asked Lubbock Lights not to use her name, said she's spent as long as an hour to get her kids to school and back home.
"The roads have gotten worse. They're not maintained well, there are lots of potholes, grooves and they are narrow. I have a larger vehicle to transport my kids. You have parents whipping in and out, you have to pay attention," she said, adding with stop signs and no traffic lights on narrow Woodrow, the traffic easily backs up.
"It doesn't matter which way you come," she added, saying she tried different routes over recent years.
So, what happened between the 2019 bond election, when voters approved the bond two-to-one, and now?
Construction was supposed to start spring of 2022 on the first part, from Loop 493 to Indiana Avenue, according to a Texas Department of Transportation timeline. It was supposed to finish next summer.
COVID and recent changes in federal funding rules did a one-two punch on the project, said Jennifer Davidson, Lubbock County director of public works.
Construction on the first part was scheduled for early this month, but has not started yet. It should finish in late 2026.
Costs went well above the 2019 estimate of $21.8 million. The estimate changed to $36 million before TxDOT bids came in at $37.6 million – an increase of around 70 percent.
The Lubbock Metropolitan Planning Organization chips in more than $17 million and Lubbock County pays the remaining tab. What was going to be a $5 million copay is now roughly $20 million for the county.
Bids for the second part – from Indiana to Slide Road – are supposed to happen next fall with work planned to be finished by late 2026 or early 2027.
That will help Cooper's new Liberty High School, which will also benefit from the extension of Quaker Avenue south of 146th Street, which could be done in time for the start of the 2024-25 school year.
"We are very grateful that the county, the voters in the county, approved the bond," Bryant said of the 2019 vote. "We're just anxious and excited to get this project going because the sooner it's completed, the more lives we think will be saved and the safer the commute will be for kids of all ages," Bryant said.
"We've got about 3,550 kids out in the Woodrow schools alone," Bryant said. Those four schools are Lubbock-Cooper High School, Lubbock-Cooper Middle School, Lubbock-Cooper South Elementary School and, more recently, Liberty High School.
CRIS shows a dangerous road
Lubbock Lights counted crashes along or very close to Woodrow Road between U.S. Highway 87 and Farm to Market Road 179, using the state's CRIS system.
Crashes were down in 2020 but increased after kids returned to school after COVID restrictions.
Total crashes peaked in 2021 but came down close to pre-COVID numbers.
However, in contrasting the number of crashes with the number of injuries, the analysis is different. Crashes have gone down while the number of injuries stayed high. The number of total injuries for 2023 was already worse in early October than any other year in our analysis.
We were curious to see how Woodrow compared to the two main streets feeding Frenship High School. According to CRIS data, there are more crashes on Dowden Road and Donald Preston Drive, but a much lower number of injuries.
Loop 493 to Indiana Avenue
The work begins at Avenue P, on the western edge of Lubbock-Cooper High School. During construction, Woodrow traffic will be one lane in each direction "for most of the time" during construction, TxDOT said.
There was no mention of detours, but drivers can expect side-street closures. Three new lanes get built alongside the current two lanes, TxDOT said. Then traffic will switch to the new lanes and the current two lanes will be torn out and replaced.
When finished, Woodrow will have two lanes in each direction and a middle turn lane. There will be better drainage and traffic signals at University Avenue, Indiana Avenue and Quaker Avenue, said Terence Kovar, Lubbock County commissioner for Precinct 1, where this work is being done.
Until then, there will be delays and slow-moving traffic in busy school zones, TxDOT said.
Indiana Avenue to Slide Road and Quaker Avenue
Woodrow traffic by the new Liberty High School is not as bad as it could be because the school opened in August at less-than-full capacity.
Plans are to add one grade level in the 2024/25 school year and another the next year.
That's when Liberty will be in the middle of a construction zone.
"If they do indeed start a year from now, we'll have about 500 kids there. That becomes manageable. The year after that, we'll have about 800 kids," Bryant explained. "That becomes a little bit more concerning."
The Quaker Avenue extension would be a huge help.
"Quaker between 146th Street and Woodrow Avenue is proposed to be paved with joint funding between the City of Lubbock and adjacent landowners," Lauren Adams, spokesperson for city of Lubbock, told Lubbock Lights. In this case, the landowners are developers connected to Red Feather Golf & Social Club, planned surrounding homes and some commercial development.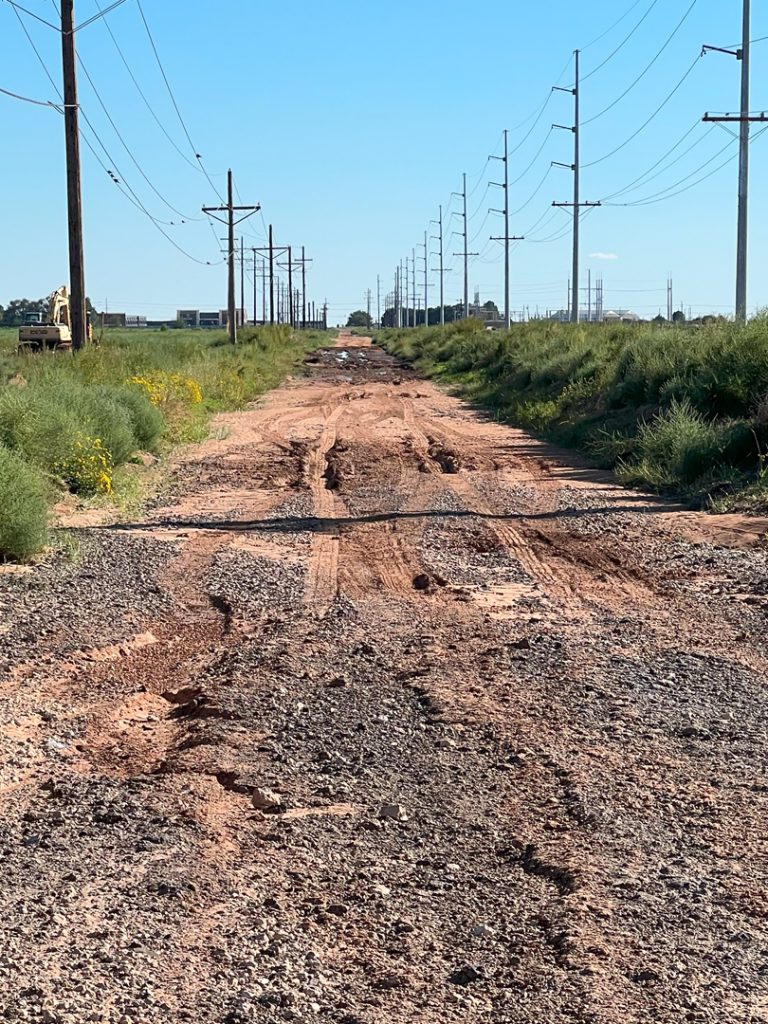 "This requires a contract between the City of Lubbock and the developers," Adams said. The contract would allow Lubbock to pay for up to 30 percent of the road construction.
"The project will be constructed by the developer and we would pay our portion based on actual construction costs per the terms of the actual developer agreement," Adams said. But so far, the agreement has not come before the City Council for approval.
Lubbock Lights learned this is the first agreement of its kind since the city adopted impact fees.
Developers pay impact fees to offset the cost of providing city services in new areas. But those fees can be tied to money the developer puts up for a major road like Quaker Avenue.
The city and developer are working on details and hope to have a finished deal in the following weeks. The Quaker extension could be ready when the next school year begins.
Lubbock County will chip in $400,000 for the intersection of Quaker and Woodrow, said Kovar.
"It's very important to the school district," Bryant said of Quaker south of 146th Street. "I think that will be a more heavily used corridor even than Woodrow Road."
Liberty's parking lot is on the north side of the building, not facing Woodrow Road, he said. Students could leave the school on 155th Street, go to Quaker and drive north, bypassing Woodrow.
"Long term, there's a great plan," Bryant said, adding it would give them six points to enter and exit from the Liberty campus. "And that's what you want."
To the west is Utica Avenue
One of those six points will be Utica Avenue on the western side of Liberty and the development.
Davidson, during an August County Commissioners' meeting, said, "That is supposed to be paved as well. And so, in a couple of years, access points will be very different."
Work on Utica and 155th Street is progressing now. That opens a path up to 146th and west to Slide Road, taking more pressure off Woodrow.
In the meantime, commissioners approved a school zone along the stretch of Woodrow Road in front of Liberty.
Author: James Clark
- James Clark is the associate editor of Lubbock Lights. He worked in radio, television and digital media for a combined total of more than 30 years. He was Director of Digital News Content at KAMC, KLBK and EverythingLubbock.com for nearly 10 years.