Last Saturday I had a religious experience … and it wasn't in church.
Although, in Texas, barbecue is a holy topic.
This all started when I noticed two South Plains barbecue places landed in Texas Monthly's list of top 25 new barbecue places … Pitforks and Smokerings in Slaton and Rejeno  Barbecue in Olton.
Saturday, the entire staff of Lubbock Lights … Scott and Terry … tried Isaac Arellano's (top photo) barbecue in Slaton, at 1808 S. U.S. 84, which is open Thursdays-Saturdays from 11 a.m. until sold out.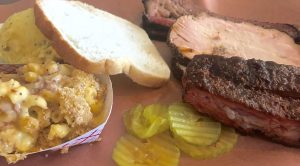 I had the three-meat plate … (seen above) … ribs, lean sliced brisket and turkey with potato salad and  the brisket mac and cheese.
Up until last Saturday, my favorite Lubbock-area barbecue was the Shack on north Frankford.
Many of my friends prefer Evie Mae's in Wolfforth, which was ranked No. 9 on Texas Monthly's last top 50 barbecue joints in the Lone Star State.
I tried Evie Mae's a few years ago and need to give it another visit.
But Pitforks and Smokerings is my new favorite … followed by the Shack, which has constantly been dissed by Texas Monthly.
Dissed.
Meanwhile, back to Slaton.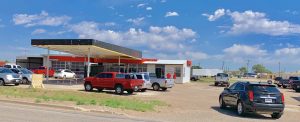 Pitforks and Smokerings is in an old service station on the south side of Slaton that Isaac's dad bought in 1981 … also the year Isaac was born.
Isaac was doing car repair a few days a week and barbecue Thursday-Saturday.
Then some punks broke into the auto repair area earlier this year.
Isaac was discouraged, but decided to  go forward   and just focus on the smoke.
The Top 25 was the second mention he got from Texas Monthly.
The first was when Pitforks and Smokerings was recently mentioned as one of six barbecue places on the Llano Estacado … showing how our pitmasters are  representing West Texas well.
Since the Top 25 appeared, Isaac told me he's doubled the amount of meat he's making.
The recognition is appreciated.
"I'm in awe," he said in the modest "dining room," inside the former gas station. "It's a blessing. It keeps us humble … I've never been in this position."
Isaac's been serving his 'cue for two years after spending some time perfecting his process.
He learned from his dad and grandfather, then a friend asked him to join his team for a Red Raider Meats competition in 2014,
The team finished 33rd out of 82 teams at the event featuring barbecue big-names like Big Moe Cason and Tuffy Stone.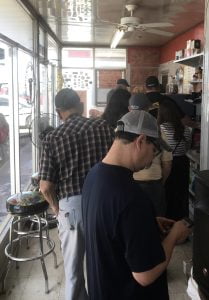 "I caught the bug really fast," said Isaac, while the line was getting longer Saturday morning, (We got there around 11 a.m. and there was no line, by 11:45, the above photo shows the line).
He started his own team for competitions to have fun and build confidence.
Isaac also started buying a brisket every Friday after work and worked to get it edible.
"He's a perfectionist," said Cody Alford, who Isaac called Slaton's local bull——-. "He's always working on it and perfecting what he does. Every weekend he'd give it away."
Now he still gives it to people … but gets paid.
Isaac also credits his wife Ashley, who takes orders, makes the sides and handles social media.
"Without her, this would not happen," he said,
Isaac also pointed out he and Ashley have built Pitforks and Smokerings without any loans.
"You take more pride in building the product that way," he said.
Barbecue on the South Plains is getting some recognition and we're all the beneficiaries.
Author: Terry Greenberg
- Terry Greenberg is editor of Lubbock Lights. He worked in the newspaper industry for almost 40 years, 33 of those as editor of eight newspapers in five states. He was editor of the Avalanche-Journal from 2006-2015. He now runs his own media company, Greenberg Media Management. He's a Los Angeles native who loves living in Lubbock, Texas.