The menu  grabs your attention … especially if you're a Texas Tech sports fan.
At the All-American Eatery & Catering Company, all the menu items are named after Texas Tech All-Americans.
There's the:
E.J. Holub hamburger on sourdough or jalapeno bun.
Marsha Sharp chicken fried bacon BLT
Zach Thomas chicken strips
Bam Morris steak fingers
Graham Harrell triple club sandwich
Bob Knight three cheese sandwich
There are more … but you get the idea.
If you haven't heard of the All-American Eatery & Catering Company, you may not get south of Loop 289 on U.S. 87.
It's on the north end of a strip center on the east side frontage road between 82nd and 98th streets.
Joe Hefley and Sheila Marsh (seen in photo above) own the breakfast and lunch place, open from 6 a.m. to 3 p.m.
Joe came up  with the way to honor Texas Tech sports legends and Sheila … who used to have Sheila's Secret Garden tearoom inside KK's Craft Mall … is the main force behind the food and desserts.
"She's the success of it," said Joe, "I'm only here on Fridays."
The pair has had a catering service for years.
They opened All-American on Sept. 11 of last year … a purposely patriotic salute. The decor is also patriotic and celebrates America.
Joe said his friend,  former Red Raider Quarterback Rodney Allison, gave him a list of Tech All-Americans and he got working on the menu,
The Gary Ashby item used to be a bacon-wrapped bratwurst with jalapeno.
"Gary Ashby was a hot dog," said Sheila, joking. "He's no longer a weenie, he's moved on to bigger and better things … a double  hamburger stuffed with crispy bacon, cheese and jalapenos on a sourdough bun."
Joe was born and raised in Crosbyton and went to barber college in Lubbock when he was  still a high school sophomore.
He's been cutting hair for 52 years and has a space in the City Bank building off the Marsha Sharp Freeway.
Or is it the other way around?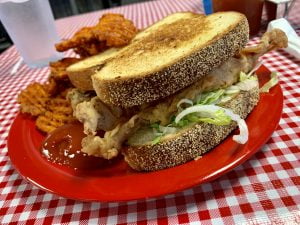 "I'm the only barber shop that's got a bank in it," Joe said.
He's also worked for Texas Tech football, basketball and baseball operations for close to two decades.
He brings officials on the field and court, but backed off baseball this season because of the restaurant.
Joe keeps an eye on the crowd, too, during games.
So are you security, he's asked.
"For lack of a better word," he answered.
Sheila had left to do a restaurant in Marble Falls, but eventually came back to Lubbock.
Her dad wanted steak fingers on the menu and Joe came up with chicken fingers.
Sheila serves the same chicken salad she had at the tearoom, but Joe smokes the chicken now and, she said: "It makes a big difference."
It's the Andre Emmett  smoked chicken salad on the menu, if you're keeping score.
There's still a Reuben on the menu … the Dave Parks. She had it at the tearoom and said a lot of men ordered it.
Joe smokes other meats and the day I interviewed them they were offering barbecue on the "hot bar."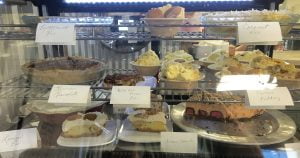 Joe also raved over Sheila's desserts (see photo above and plan your sugar coma).
On Friday nights, they  have all-you-can-eat catfish … but will not do that over the summer.
Speaking of Fridays, Joe says he usually has lunch with a group of Tech fans, former players and coaches.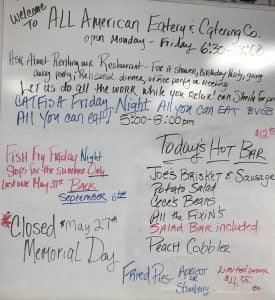 Author: Terry Greenberg
- Terry Greenberg is editor of Lubbock Lights. He worked in the newspaper industry for almost 40 years, 33 of those as editor of eight newspapers in five states. He was editor of the Avalanche-Journal from 2006-2015. He now runs his own media company, Greenberg Media Management. He's a Los Angeles native who loves living in Lubbock, Texas.