I didn't really understand Buddy Holly's impact on rock 'n' roll before moving to Lubbock in 2006.
I learned how he and the Crickets influenced the Beatles and many others. The Beatles then influenced almost everyone who followed.
All from West Texas … where you have space to breathe, think and dream,
Then a trip to Cleveland this January crystalized Holly's impact even further.
Cleveland … in January?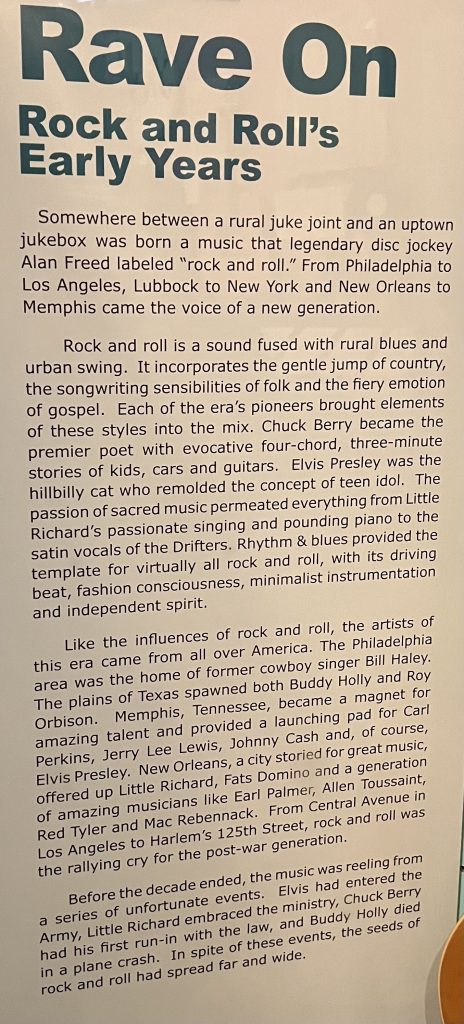 The New Mexican and I were there for a celebratory family event, but it also gave me a chance to knock off a mid-range bucket list thing … visiting the Rock & Roll Hall of Fame, nestled by Lake Erie.
If you like rock 'n' roll, it's worth the time … but you may want to go in a warmer month. Most of the displays are on the basement level of the cool pyramid structure climbing five levels. That basement level is called Level Zero, which sounds like a bad rock band.
After enjoying the first display on the influences of rock 'n' roll, then a place where you can listen to songs that shaped rock, I came to a long hall with different displays.
The first was rock's early years. The main words above "Rock and Roll's Early Years?
Rave On … one of Holly's hits.
There were four following paragraphs. The first one read:
"Somewhere between a rural juke joint and an uptown juke box was born a music that legendary disc jockey Alan Freed labeled 'rock and roll.' From Philadelphia to Los Angeles to Lubbock to New York and New Orleans to Memphis came the voice of a new generation."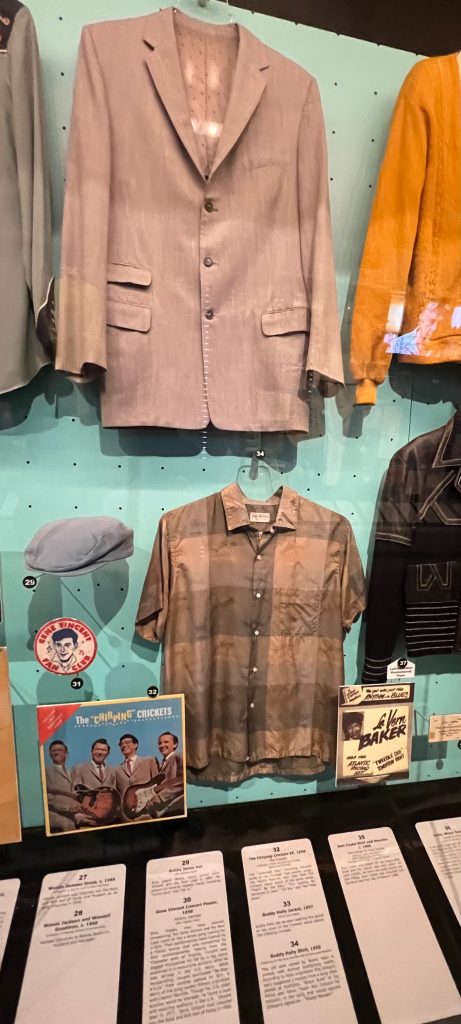 How often does Lubbock get mentioned with those cities … at least in a way we like?
The third paragraph lists where these influences came from, including, "The plains of Texas spawned both Buddy Holly and Roy Orbison."
The final paragraph mentions Holly's death in the 1959 Iowa plane crash among other issues that might have stopped the genre going forward … like Elvis going into the Army, Chuck Berry's run-in with the law.
But the final sentence says: "In spite of these events, the seeds of rock and roll has spread far and wide."
In the adjoining display case is a "The Chirping Crickets" extended play album cover from 1958, featuring four songs: "That'll Be the Day, "I'm Looking for Someone to Love," "Oh Boy" and "Not Fade Away." To the right of the album is Holly's silk shirt from 1958 and above it his jacket from 1957, which he's wearing on the album cover.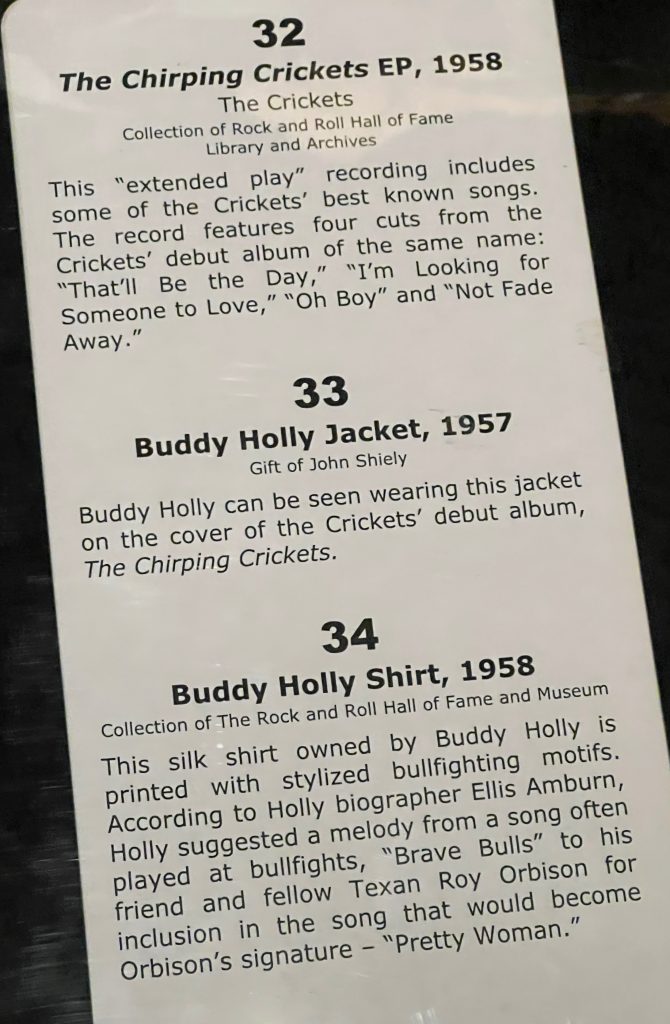 The following displays were on cities that spawned rock.
London and Liverpool … which birthed the Beatles … was one of the displays.
It detailed "skiffle," a style influenced by New Orleans jazz and jug-band music. John Lennon and George Harrison were in skiffle bands. As skiffle faded, Liverpool musicians turned to American rock 'n' roll.
The display then says: "Influenced by the likes of Buddy Holly, Little Richard, Carl Perkins, Chuck Berry, Elvis Presley, Jerry Lee Lewis and the Everly Brothers." Who's listed first? And it's not in alphabetical order.
When Paul McCartney played United Supermarkets Arena in 2014 … the best concert I've ever seen … he told a number of stories about how Holly and Crickets (Jerry Allison, Joe B. Mauldin, Niki Sullivan) influenced their development. How they couldn't wait for the next record.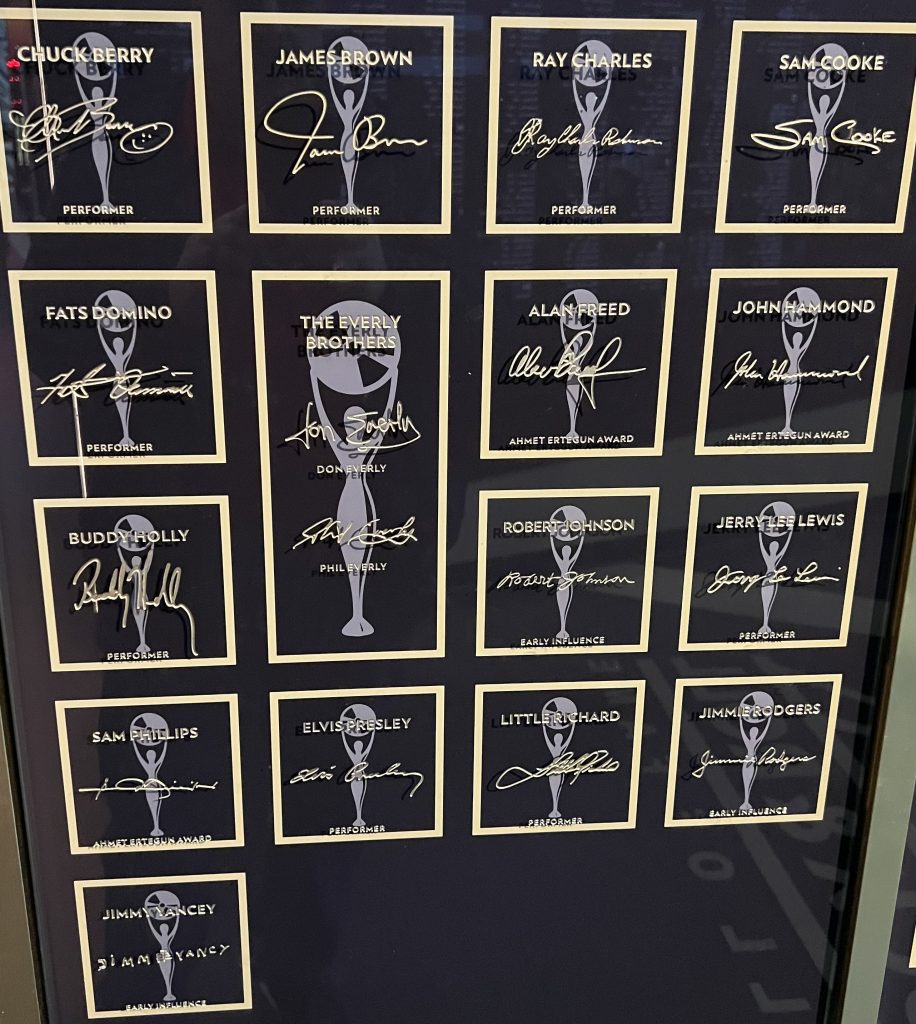 Climbing the floors we came to the artists who've been inducted in the Rock Hall of Fame. Sixteen people were in the first group in 1986:
Chuck Berry
James Brown
Ray Charles
Sam Cooke
Fats Domino
The Everly Brothers
Alan Freed
John Hammond
Buddy Holly
Robert Johnson
Jerry Lee Lewis
Sam Phillips
Elvis Presley
Little Richard
Jimmie Rodgers
Jimmy Yancey
Holly was inducted by John Fogerty of Creedence Clearwater Revival fame.
The Beatles were inducted two years later, still following their hero.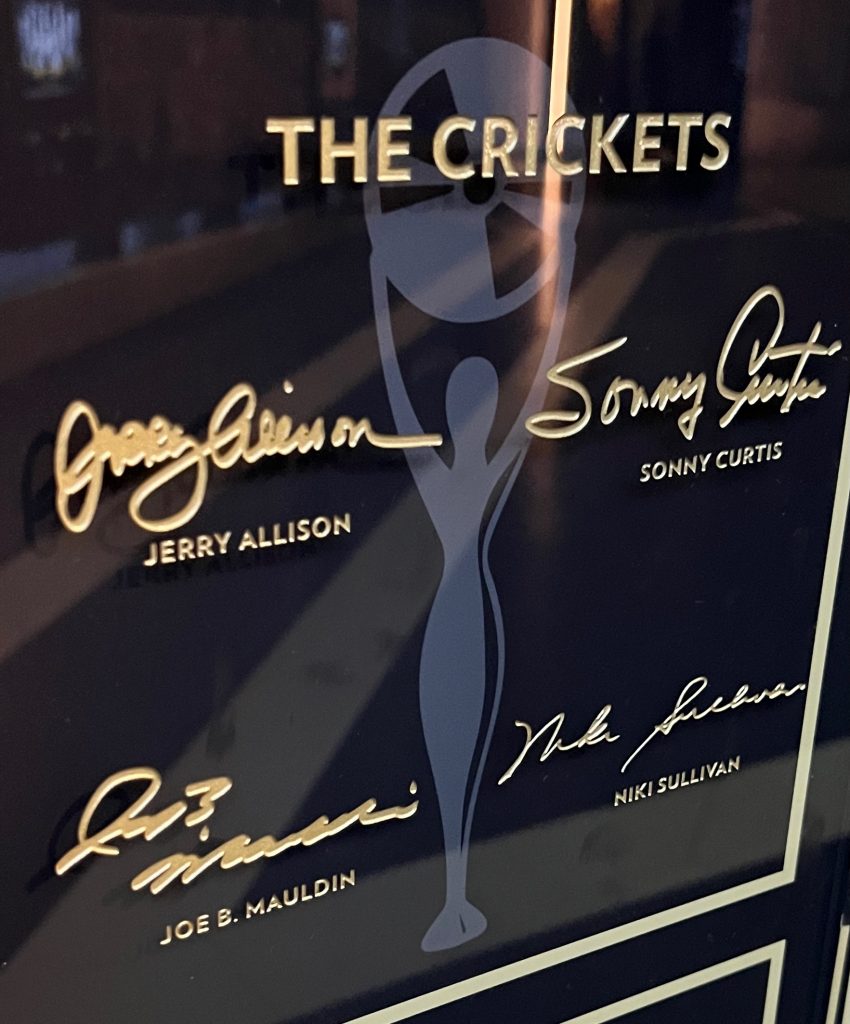 The Crickets, who went on after Holly's death, were inducted by Smokey Robinson in 2012 with Sonny Curtis joining Allison, Mauldin and Sullivan.
I traveled more than 1,400 miles to a chilly town to be reminded how much Lubbock and West Texas influenced rock 'n' roll.
Lubbock honors its favorite son in many ways and people come from around the world to pay tribute to the young man whose music is still adored.
His historic influence has stretched beyond West Texas for decades, to Cleveland and beyond, showing his story will not fade away.
Author: Terry Greenberg
- Terry Greenberg is editor of Lubbock Lights. He worked in the newspaper industry for almost 40 years, 33 of those as editor of eight newspapers in five states. He was editor of the Avalanche-Journal from 2006-2015. He now runs his own media company, Greenberg Media Management. He's a Los Angeles native who loves living in Lubbock, Texas.