Their season ended on a bitterly cold night against Childress in 1971.
For 50 years, though, it was the greatest football season in Roosevelt High School history until this year's Eagles came within one game of playing for a state title.
For the 1971 Eagles, the 2021 season brought back wonderful memories of a group that started bonding in 7th grade and won Roosevelt's first District championship their senior year.
"Playing together for that number of years really helped bind this team together. Probably our junior year we started thinking we had the strength, durability and talent … to do something beyond District play," said Kenny Maines, a center on that Eagles team.
Maines went on to be a member of the Lubbock-based Maines Brothers Band and a Lubbock County commissioner. He's semiretired but still plays venues around Lubbock.
Maines sat in on a recent zoom interview with teammates David Hammett, Jimmy Matsler and David Vasquez to talk about their magical season.
Vasquez pointed out winning District meant so much more decades ago because only one team went to the playoffs instead of three advancing now.
The week before their season ended to Childress, the Eagles dominated favored Littlefield 27-7 to capture the Bi-District crown – the first for Roosevelt – after compiling an 8-2 record. Until the Childress game the Eagles outscored their opponents 220-64.
'I got the sense we were going to be special'
When they were 7th graders, the Eagles were undefeated and beat some teams one class higher.
"I got the sense we were going to special in 7th grade," said Matsler, a retired schoolteacher and coach who lives in the Metroplex. He figures he's coached almost every sport over the years.
As 8th graders, they were 4-3, losing one game 2-0.
In 9th grade, they went 9-0, outscoring their opponents 222-28.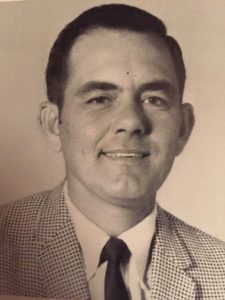 "We knew we were going to be pretty good when we were young," said Matsler. "I have fond memories of the team bonding, the brotherhood we had. That was a culture cultivated by our coach, Houston Powell."
Vasquez added: "You could see us kind of coming together."
During that 9th grade season, the Eagles played Spur. It was 28 degrees at kickoff with wind blowing 30-to-40 miles out of the chilly north.
Vasquez took the second half kickoff at the 10-yard line and ran straight up the middle for a touchdown – into the wind.
"It took him 18 seconds to score," said Matsler, adding Vasquez was fast. "It was like slow motion, but everybody else was in a lot more slow motion."
Maines remembers one of the coaches in the locker room at halftime of that game telling Vasquez to take the kickoff and score.
"David said 'yes, sir' and that's what he did," said Maines.
As the younger players who'd had so much success moved up to high school ball, some seniors wondered if they'd lose their starting jobs, said Hammett, who lives in Katy after working 30 years for AT&T/SBC.
The beginning of their junior year, a group came in from Lubbock to work with the team on motivational training goals, said Maines.
"Whatever you plan to do, you can achieve and that really got us rolling as far as starting to set goals and deciding what we had to do to get there," he said.
Also their junior year, the Eagles moved from Class 1A up to 2A and had teams in their District that had moved from 3A to 2A.
"That was a challenge," even though the Eagles finished 7-3, said Vasquez, who does educational consulting after a long career in education and lives in Lubbock.
A historic senior year to remember
The beginning of their senior year, quarterback Don Jackson asked the team to meet at the fieldhouse a few weeks before two-a-day practices started.
He led them on a run.
"There was like a two-mile block on the highways around Roosevelt and here's a group of guys going down the road. It was the epitome of bonding," said Vasquez.
The 1971 Eagles recalled their memorable moments of the regular season.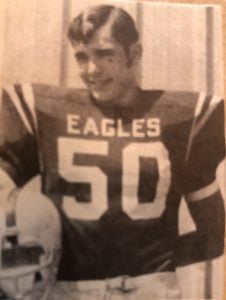 "I played center and I may be the only center is the history of Roosevelt who scored four points for the other team by hiking the ball over the punter's head through the end zone," said Maines.
"You did it twice in the same game," said Matsler, as the former players all started laughing on the Zoom interview.
Jackson scored a touchdown in the final minute to save Maines from scoring the winning points for the other team and the Eagles beat Idalou 7-4.
It was the school's first win over their bordering rivals to the north.
Maines' favorite game was a 10-6 win over Tahoka.
Watching film of Tahoka before the game, the Eagles saw a Tahoka defender who liked to rush between offensive linemen to disrupt the offense.
"He would shoot the gap every single play. Our coach talked about trying to keep this guy out of our backfield. I was able to accomplish that. He wasn't a big guy. Every time I'd snap the ball, I'd drive him as far down as I could and did that most of the game," said Maines.
Denver City was picked to win the District and hosted the Eagles.
"We played probably one of our best games ever," said Vasquez, a running back and cornerback, of Roosevelt's 16-6 win. "I took a beating that game because I carried the ball 18 times because Don Jackson got hurt. I remember waking up the next day and couldn't get out of bed. I had to call my dad to help me get up because I was so beat up. I only weighed about 140 ponds back then."
Before he was injured, Jackson hit receiver Hammett with a touchdown pass early in the game.
"That kinda set the tone for that whole game," said Hammett, who also played defensive back.
Denver City was unbeaten at home the past six seasons.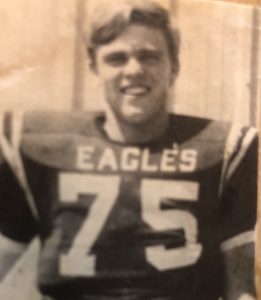 "That game was great," said Matsler, who played on both offensive and defensive lines, was kicker and backup punter. Hammett was his holder for kicks.
"We changed our defense. We'd been in a 5-2 defense (three down linemen, two stand-up ends and two linebackers) the whole year. They had scouted our games because they knew they were going to have to beat us. We came out in a 6-2 defense (adding a fourth down lineman) and it befuddled them," said Matsler.
Denver City's Lyndal Trout, who went on to play at Rice, came on the Roosevelt bus to congratulate the Eagles.
"I always thought that was classy," said Hammett.
But Jackson, who passed away in 2015, broke his arm in that game.
"He scored a phenomenal touchdown where he broke five, six or seven tackles. They just couldn't tackle him," said Vasquez. "Then in the next series he gets knocked down and breaks his arm."
Sophomore Ricky Hightower came in at quarterback.
The next game was against Frenship and Hightower started.
Vasquez said the Eagles were struggling on offense early in the Frenship game and tried to open things up by passing.
Hightower threw a "lame duck" – a weak pass that floated in the air – toward Vasquez.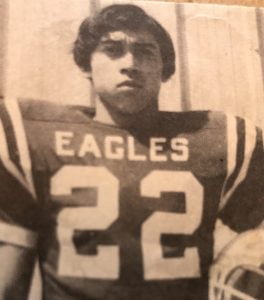 "I caught it, but I got creamed," said Vasquez.
Coach Powell called Hightower over to the sideline and told him to never do that again.
"Ricky turned out to be a good quarterback and really stepped and helped us win District," said Vasquez.
After rallying from the lame duck pass, the Eagles beat Frenship and were now 6-1.
They then shut out Ralls, 33-0 – their fourth shutout of the season. Ralls was coached by David Baugh, son of famed TCU quarterback Sammy Baugh, who was at the game.
After beating Tahoka, the Eagles lost to rival Slaton 20-14 but had already wrapped up Roosevelt's first District title.
The Slaton loss came after the poop hit the fan.
"Some of our fans dropped some dog feces at their fieldhouse, which was motivation for them," said Vasquez.
Besides Roosevelt and Slaton's school district bordering each other, there was another aspect of geographic intimacy which added to the rivalry.
"I lived at Buffalo Springs Lake. Half of the lake was Roosevelt and half on the south side was Slaton. Ransom Canyon was exactly the same," said Matsler.
As the team built momentum, Vasquez's father liked going down to the Canyon Store every Saturday where farmers would gather for coffee – after a win. He didn't go after a rare loss.
Heading into the Bi-District playoff game against Littlefield, media came out to talk to the team.
"That had never ever happened at Roosevelt," said Vasquez.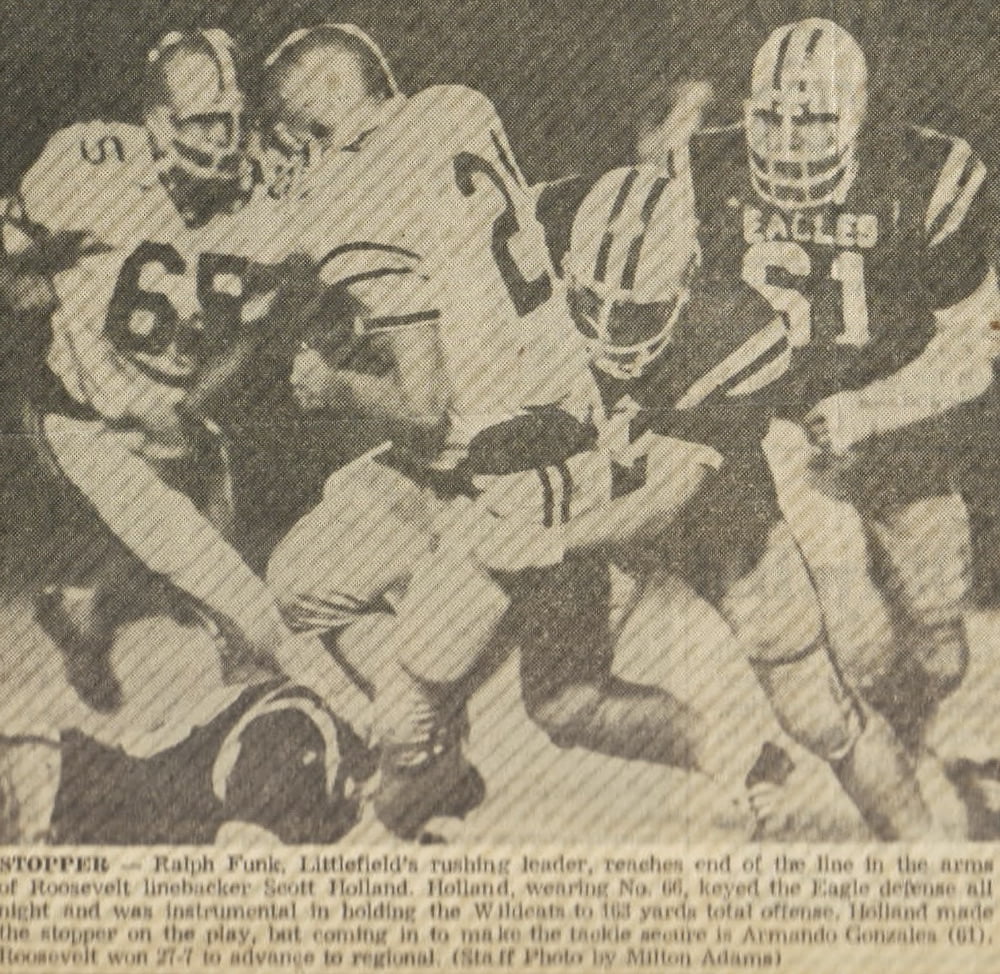 The Littlefield game
Littlefield was led by running back Ralph Funk, who ran for 1,718 yards that season – third highest in Texas 3A football that season. At 220 pounds he was big and fast.
"He was the leading rusher on the South Plains. We were very motivated to stop him. I think he might have gotten to 100 yards near the end of the game, but that was after the game was determined," said Matsler.
Vasquez – who ran for more than 100 yards at the game at Lubbock's Lowrey Field – said Roosevelt's "group defense" kept Funk from making an impact.
"We had to group tackle him. It took three or four of us to knock him down," he said.
Funk was related to Terry and Dory Funk Jr. – famous pro wrestlers who were inducted into the World Wrestling Entertainment Hall of Fame in 2009.
The Roosevelt community was buzzing about their Eagles.
"In smaller communities it's an ego boost," said Maines, adding it was almost a shock the Eagles had gotten past District play because it had never happened.
"There was a buzz in the community coming up to the regional game," Maines said.
The Childress game
The Regional game was played in Plainview the day after Thanksgiving.
"We had a 'blue norther' come in and it was cold. We didn't play our best game," said Vasquez, who said he thought the result would be different in warmer weather.
"We were a really good running team, but we were also a great passing team," said Matsler. "We had great play-action passes, sprint-out passes, bootleg passes. Some of our worst games were in terrible weather conditions like the Childress game," said Vasquez.
Officials considered postponing the game until the next day when it would be warmer, but that didn't happen.
The Eagles lost 14-6.
Childress had a couple of big linebackers who were tough to block, said Maines.
"It was a chore to block against them. I got to the end of the game and was thinking we were not prepared like we should have. I think some of that was postseason. It was the first time we ever experienced going past our last District game – and you're still playing football. I'm not sure we were prepared for that extended season," said Maines.
"I even had one of the coaches come up to me after the Childress game and took some blame," he added.
Jackson had returned to the team after a few games and coaches decided to alternate Jackson and Hightower on plays.
Years later Maines wondered if that might have affected the team's rhythm.
Then he added: "Every other play I had a different guy's hands under my butt. Maybe that's why it felt a little different" getting laughs from his teammates.
Now
Members of the 1971 team followed their alma mater this past season and Matsler was at the semifinal game.
"When they beat Abernathy – Abernathy was supposed to be the cream of the crop – I knew they were pretty good," he said.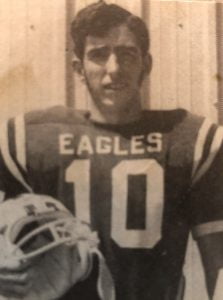 In 2021, the Roosevelt cheer was "We believe."
In 1971, it was "We will."
In a few months, the Eagles who played in 1971, will celebrate the 50th anniversary of their 1972 graduation and hope they can get together.
"Think the class president is in charge of that and if I remember right, David Hammett was our class president. So David, the ball's in your court," said Maines on the Zoom call.
Hammett said he and his wife Janice would get to work on that.
Then Hammett added: "That's the one thing I've got over all these other guys – I married the head cheerleader."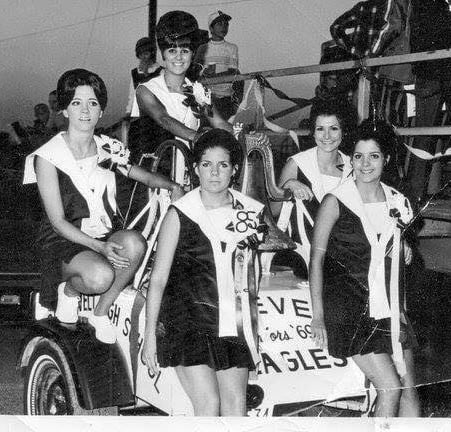 Author: Terry Greenberg
- Terry Greenberg is editor of Lubbock Lights. He worked in the newspaper industry for almost 40 years, 33 of those as editor of eight newspapers in five states. He was editor of the Avalanche-Journal from 2006-2015. He now runs his own media company, Greenberg Media Management. He's a Los Angeles native who loves living in Lubbock, Texas.