I walked into the Buddy Holly Hall of Performing Arts and Sciences for the first time on Saturday night, January 23.
After having my temperature taken.
Since plans were announced for the now fully sprouted "Holly Hall," I've been excited about going to an event.
Odds were it would be a Lubbock Symphony Orchestra concert considering I've had season seats a few years now.
Yep.
This was the first paid event – a few Lubbock Independent School district events were held shortly before.
We parked in the Civic Center parking lot, but instead of walking toward the southwest, we walked north across Mac Davis Lane and into the Christine DeVitt Main Lobby.
Lobby? That ain't a lobby. There's got to be a stronger word.
The space (seen below) is stunning, gorgeous, beautiful. Or, in Italian, to honor Antonio Vivaldi, whose "Four Seasons" was performed, stupendo.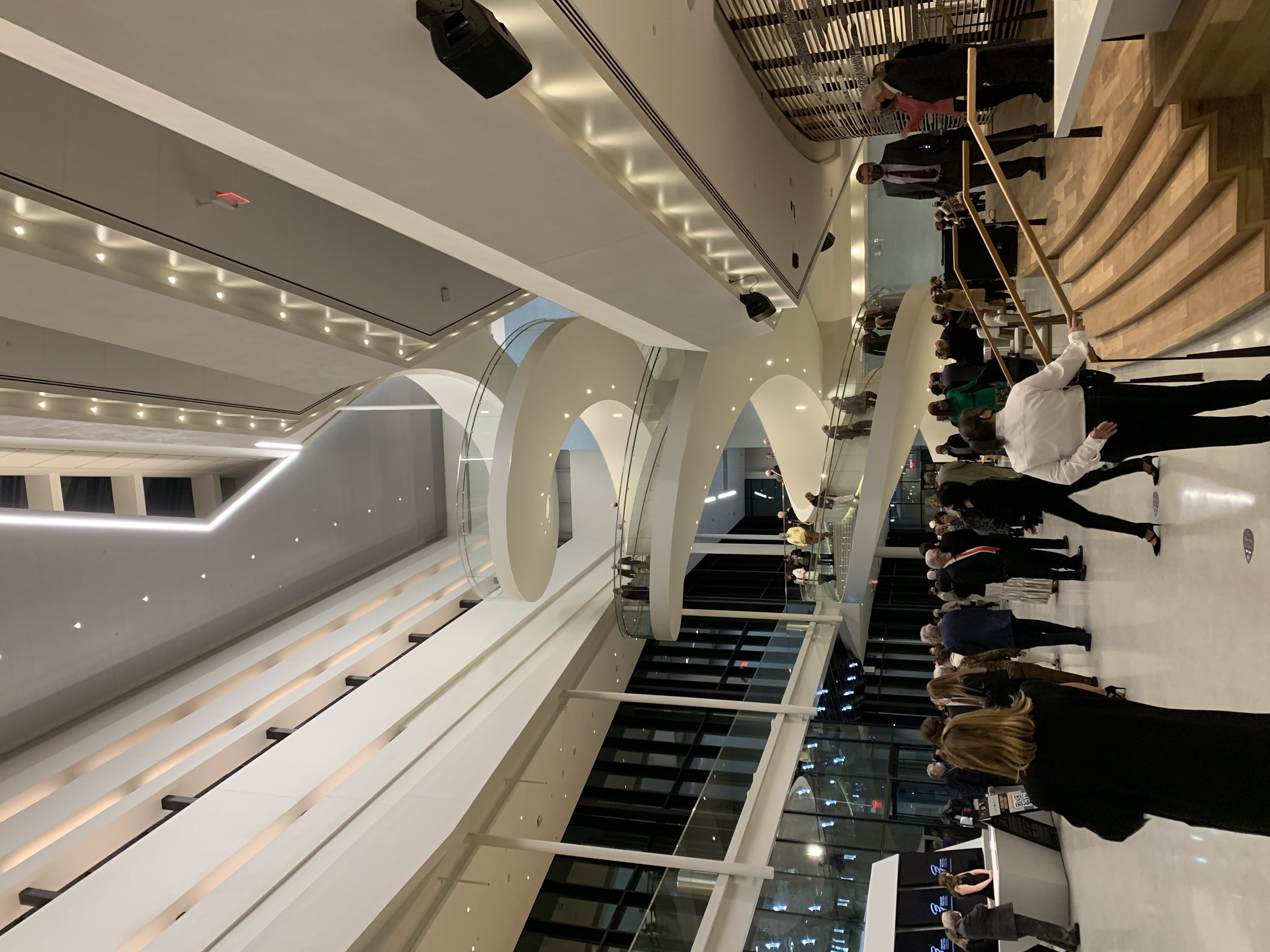 Congratulations to Tim Collins, the Lubbock Entertainment and Performing Arts Association and everyone who helped guide this privately funded $150-million-plus project from idea to reality. You deserve a standing ovation. And a drink or two. Maybe more.
Your eyes are drawn to the spiral staircase climbing four levels. The staircase's circular spirals contrast the straight angles of the upper levels that I found striking (see below).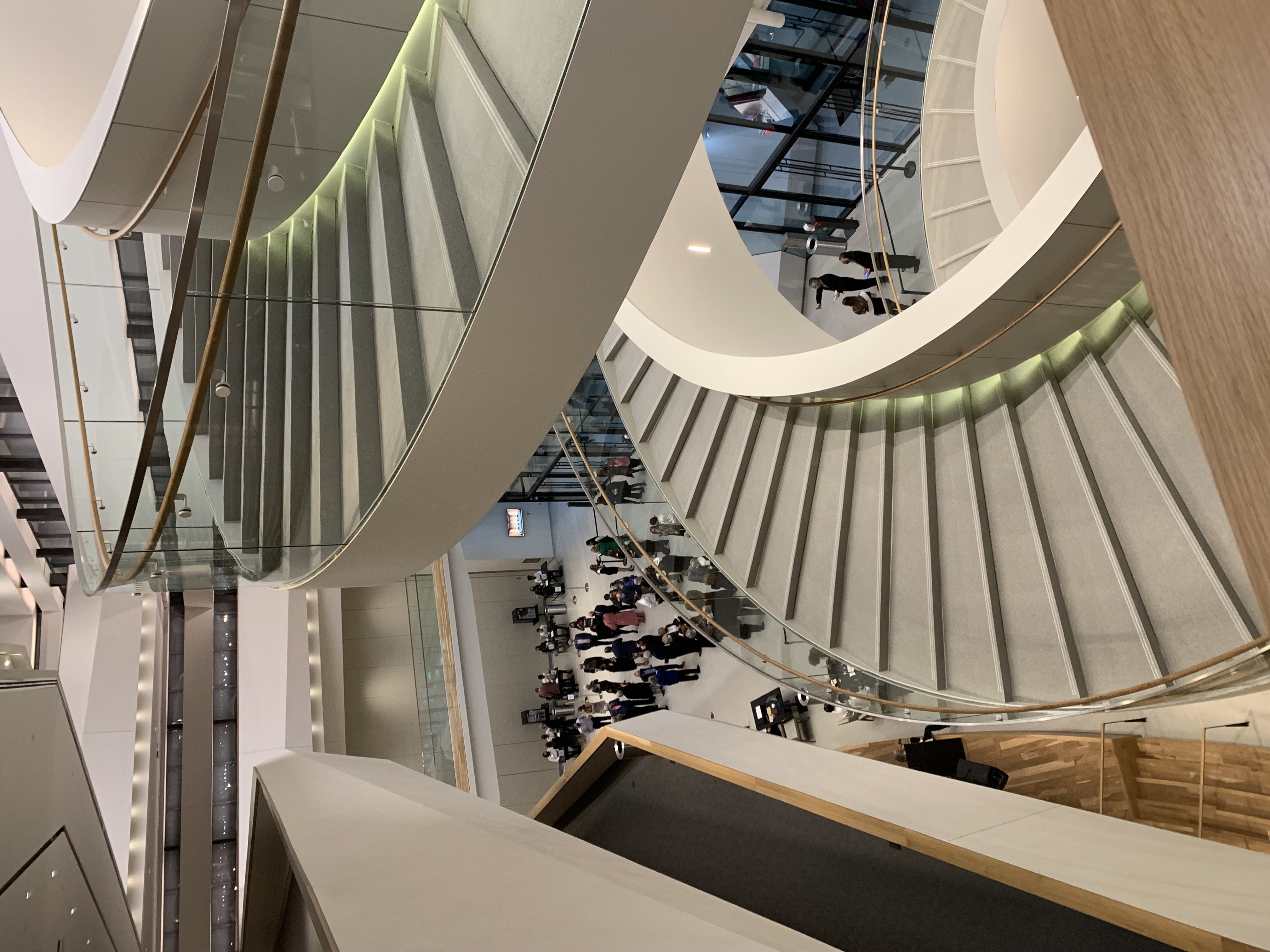 Inside the Helen DeVitt Jones Main Theater the visual hits just keep coming. The light fixtures resemble gold vinyl records with a descending bulb (see a few paragraphs down). The upper levels sweep around on the sides to form a "U" shape.
And it's ours, Lubbock and the South Plains, thanks to a lot of work and millions and millions of dollars of generosity.
It's so easy to fall in love with Lubbock's new showplace. When you go, that'll be the day you'll never forget because those memories will not fade away.
OK – I'm sorry. Not really.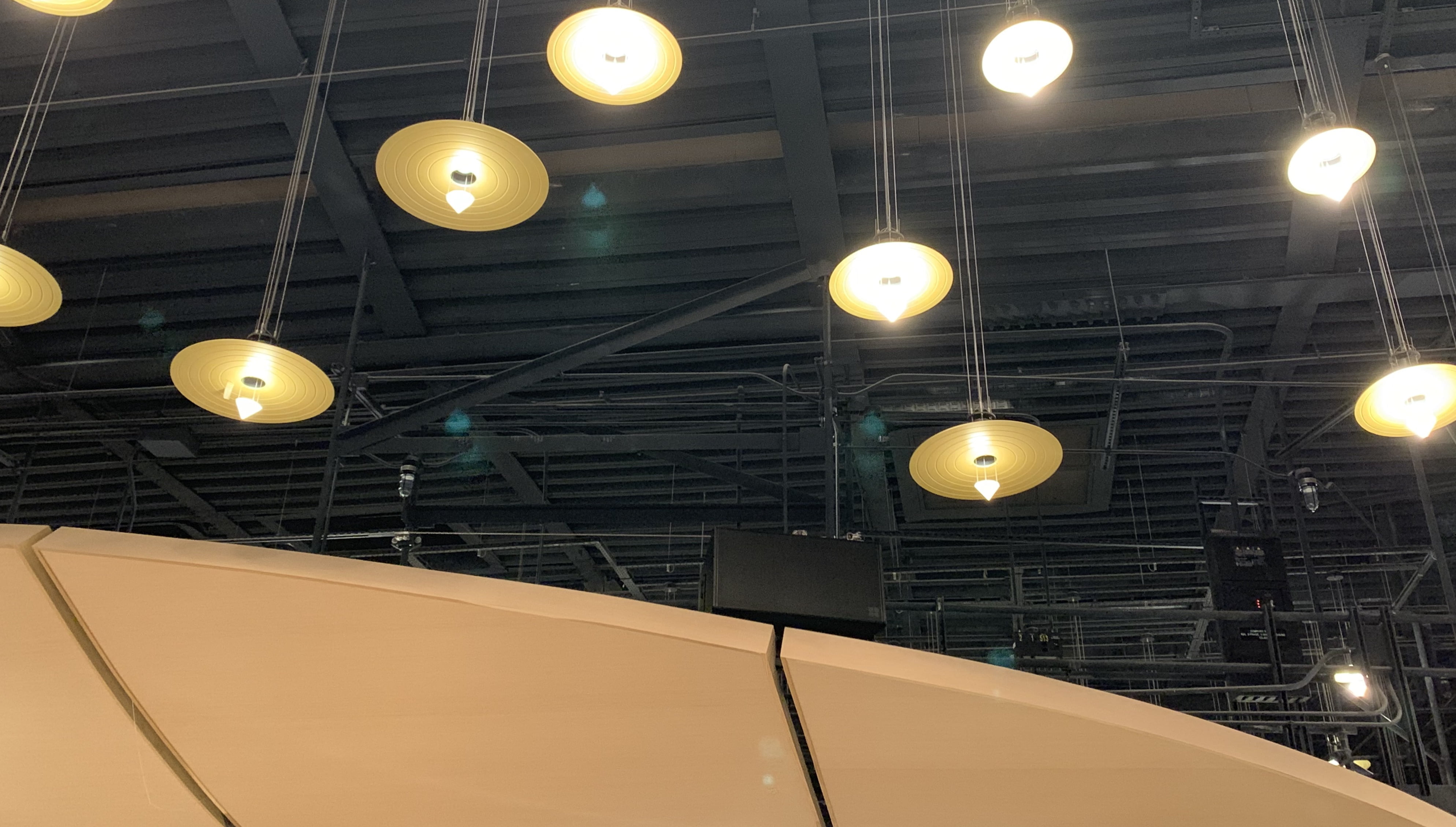 Then I looked on the stage and saw something I didn't expect to see – it looked like the full orchestra was not going to perform. Due to COVID guidelines, the full orchestra could not all be on stage and socially distance.
It was the same in the audience. The concert was sold out. But with seats blocked off for social distancing, and some people staying home to watch a streaming version, we were spread out.
Regardless, it was a wonderful, but shorter concert than usual.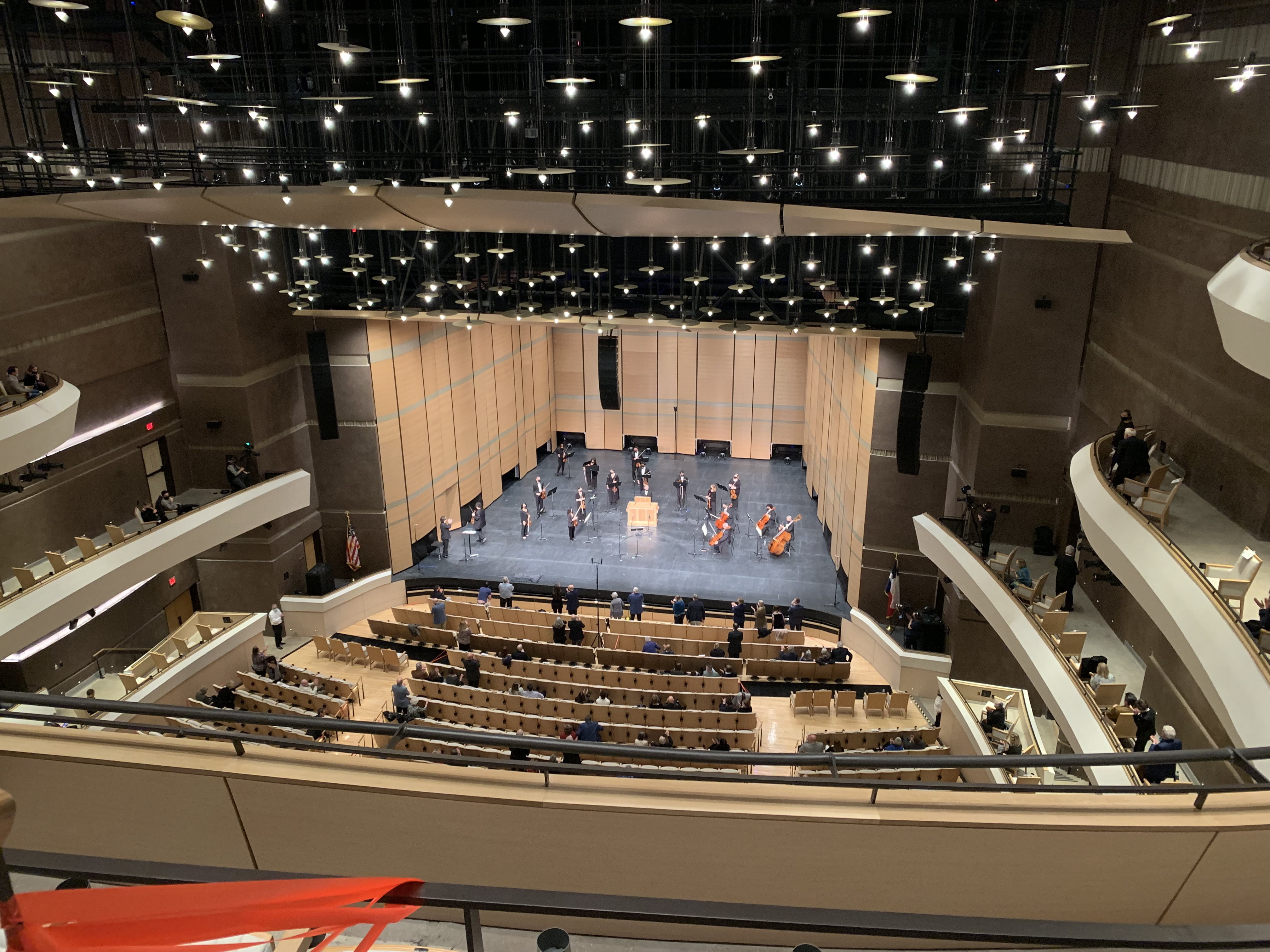 And as much as the Hall is great to look at, the sound is … lush.
I took a ten-second video clip and texted it to my daughter, Lucy, who has a music degree from Texas Tech.
"The sound in there is great," she responded – even from hearing it through a phone.
Afterwards, we went out for drinks and appetizers and started wondering:
There were less than two-dozen musicians on stage – all strings and one harpsicord. About a fifth of the normal size. Was that all because of COVID?
Were the pieces picked because they were written only for strings?
How has COVID affected this symphony season – which started four months later than usual and will run until late June?
So I went to the Maestro – LSO's David Cho – who we've been lucky to have in Lubbock for eight seasons now.
Since the pandemic hit in March, David said, LSO changed its season lineup multiple times, settling on Saturday night's program about three months ago.
Before guest violinist Philippe Quint played the "Four Seasons," David led the strings through Gustav Holst's short "St. Paul's Suite."
"The length was perfect," he said of the 12-minute opening piece, followed by Vivaldi's 45-minute masterpiece.
There was no intermission to avoid people mingling and the shorter program was designed to get people in and out, said David.
And because both pieces were written for strings, it allowed LSO to limit the number of musicians on stage.
The next concert on Feb. 27 – "Peter and the Wolf," narrated by Judge Mark Hocker – will take about three-dozen musicians, still well below the orchestra's full size.
Holst's "The Planets," is planned for May 1 and needs more instruments – winds, brass, percussion, said David.
"But if the guidelines don't loosen up have to come up with another program," he said.
"We want to be good citizens and care about people's health. Whatever the city tells us about guidelines, we'll abide by it. We're ready to make changes, adjustments – but hopefully not cancel," he added.
And David's happy they can take the stage when many other symphonies are still shuttered.
So was Saturday night's guest soloist.
"He was so thrilled to play," said David. "It was his first orchestral gig in a whole year. Everything got canceled."
Quint flew in Thursday for an evening rehearsal, but his flight was delayed and the rehearsal was moved to Friday.
There were still some things after Friday's rehearsal to "tighten up," as David put it.
Principal cellist Michael Newton – who grew up in Lubbock and taught my daughter Annie at O.L. Slaton Middle School – came in Saturday morning to work with Quint.
"There's a lot of back and forth between the soloist and the principal cellist in the 'Four Seasons,' said David, "and Michael nailed it. Afterwards people were commenting how tight it was between Phillip and Michael."
David also served as a narrator during the Vivaldi piece as Quint played violin and led the musicians.
I'm not an expert on classical music – classic rock, much more – so I asked David if it's normal for the piece to not have a conductor.
In Vivaldi's time – 1678 to 1741 – ensembles were smaller.
"The violinist or keyboardist would nod to keep time," he said.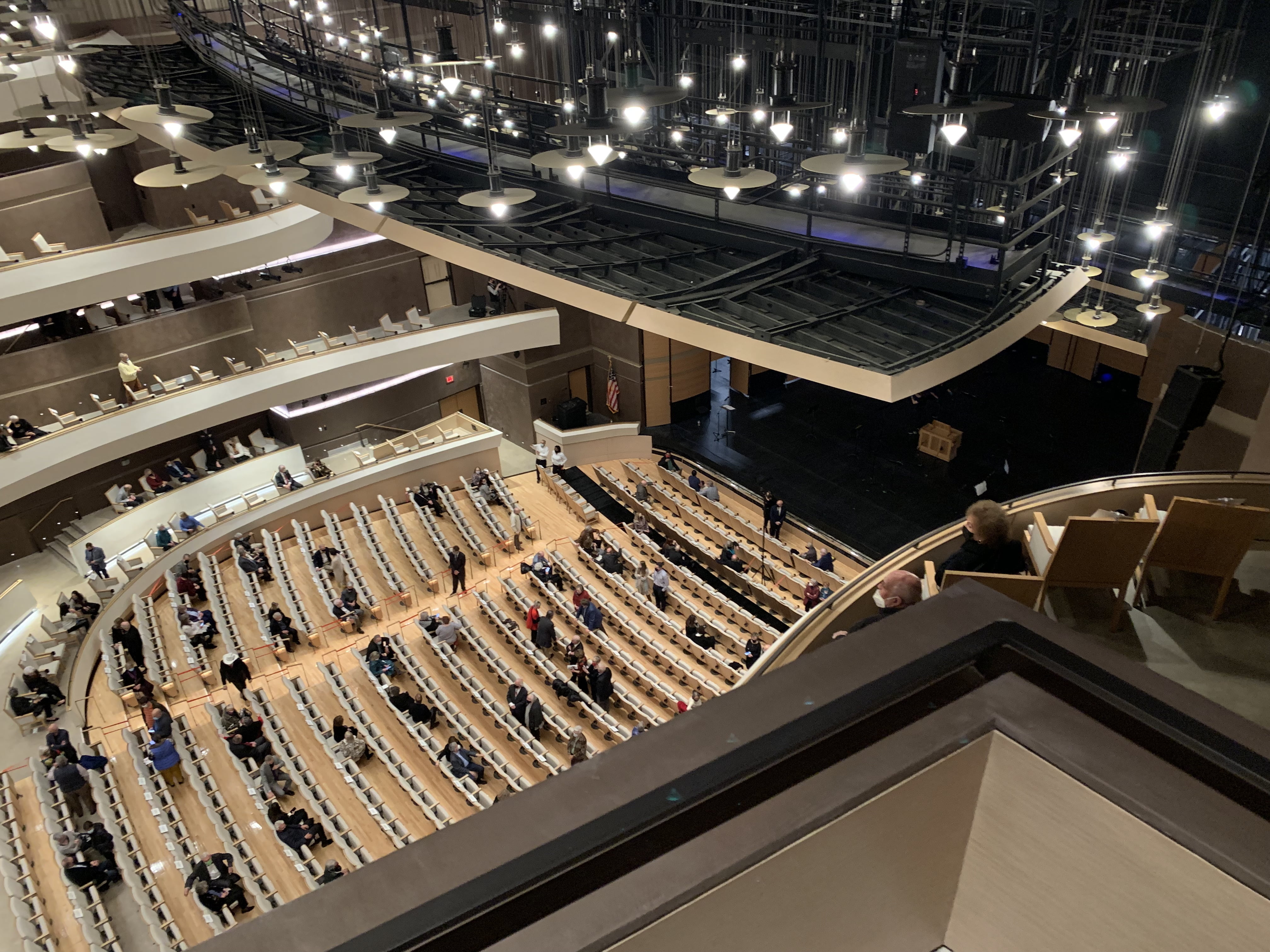 As for the Hall's sound – if I could tell the difference, I could only imagine how David hears it.
"You can hear everything going on stage, but almost everywhere in the large theater it sounds as clear and reverberant as it does on stage," he said.
The theater has NC-15 acoustics – "the quietest acoustics in the world," he said.
"You can hear everything going on stage. Symphony board members who attended first rehearsal could hear musicians tapping their feet. When (principal bassist) Mark Morton pulled out his rosin you could hear the squeak sound when he applied it to his bow. From stage we could hear whispering and talking in the theater. When someone dropped a cup, it went clunk, clunk, clunk. The sound is magnified 20 times," he said.
The Holst piece was maybe appropriate for another acoustic-related reason, said David. It was written for the St. Paul's Girls' School in Hammersmith, London, where Holst taught for years. The school built a soundproof studio for him out of gratitude.
"LEPAA got the money to make this dream of a world-class venue come true with this incredible sound," he said.
I asked David if he was overwhelmed by emotions just before the first concert.
That came later, he said.
"I had a mission in mind. I was focused on making sure we played at our absolute best. Then to make sure the podium was off and Phillip knew I'd recite the poem before each movement. I was thinking what can I do to make this moment special and help everybody play together?" he said.
But afterwards …
"There was a flood of memories. Of piano search trips," he said. Three new pianos were bought and are temporarily in the musicians' lounge with humidifiers because of Lubbock's dry weather.
David also helped conduct cleaning crews on how to clean the massive building covered in the mess accompanying construction.
"They'd wipe and another layer of dust would fall," he said. "It wasn't like cleaning a normal building."
Was he disappointed the first concert was not accompanied by the grand opening originally planned?
"About a year ago, we would have said 'darn it, we want a full-blown opening,'" David said of before the pandemic hit.
"But now we're so grateful it not only happened, but happened safely with all the protocols in place. The audience abided by temperature checks and social distancing. I'm really grateful. We're so lucky in Lubbock to be able to play a live concert. January 23, 2021 was a history-making day," he said.
"In my mind, it was as grand as Beethoven's 9th given where we are," David said.
Speaking of that, the symphony's 2021-2022 season is scheduled to start in September with Beethoven's 9th Symphony with a full orchestra and chorus – assuming it's safe.
Meanwhile, there are still lists of things to do to finish the Buddy Holly Hall.
"The shell (around the stage) still needs to be completed. There are about ten pieces missing," said David.
Rave On – the restaurant named after one of Buddy Holly's hits – opens in a few days to the public.
At the end of most interviews, you ask "is there anything else you'd like to say?"
"How can I thank everybody for giving," David said. "For the Lubbock Symphony, Ballet Lubbock, LISD. To have this place that honors a great American icon. It's really mind-boggling. I'm speechless and want to make sure people know how grateful we are to everyone who made this possible."
There's so much more than what I described – the smaller Crickets Theater, the home of Ballet Lubbock is also in the massive building and more.
The only thing that could make it better is if a plane didn't crash in Iowa more than 60 years ago and Charles Hardin Holley – Buddy's birth name – was here to see this.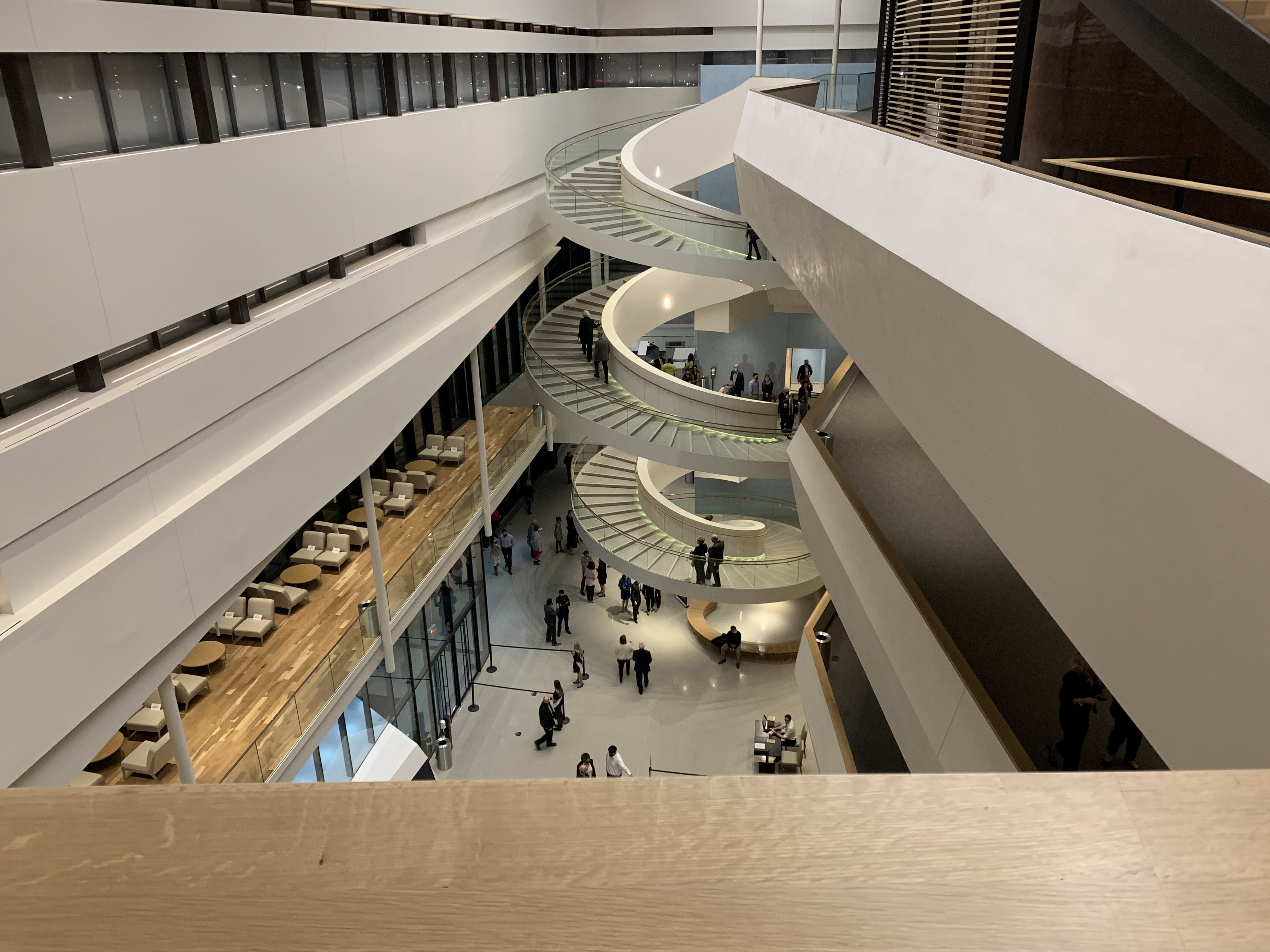 Author: Terry Greenberg
- Terry Greenberg is editor of Lubbock Lights. He worked in the newspaper industry for almost 40 years, 33 of those as editor of eight newspapers in five states. He was editor of the Avalanche-Journal from 2006-2015. He now runs his own media company, Greenberg Media Management. He's a Los Angeles native who loves living in Lubbock, Texas.