A popular Lubbock restaurant known for pizza slices and calzones is a legal battleground between the current and former owners with a new restaurant acting as the sticking point.
One Guy From Italy was started by a "passionate Sicilian immigrant" according to its website. That same passionate immigrant and former owner was named as a co-defendant in a lawsuit seeking up to $250,000.
Gabe Vitela, current owner of "One Guy's" 50th Street location sued both Sal and Girolamo "Jerry" Mazzamuto in Lubbock's 237th District Court, claiming they broke a non-compete clause. Lubbock Lights reached out four times to Don Dennis, attorney for the Mazzamutos, but he declined to talk. Dennis asked an appeals court to look throw it out.
So what happened?
In June 2020, Vitela purchased the intellectual property rights of One Guy including the name and recipes for $100,000 from Sal, the owner. Jerry founded the pizzeria in 1990, but later turned it over to his brother who came from New York to Lubbock in 2002. After the Vitela deal, Sal could be in the restaurant industry anywhere he wanted except Lubbock County, according to the agreement, said court records. Then Jerry, not Sal, started Papa V a few blocks from 82nd Street and Slide Road. Sal purchased a former restaurant location with equipment and leased it to Jerry for Papa V.
Dennis argued in court records that Sal is not in the food business. It's Jerry. So, there's no violation of the agreement.
Vitela and his attorney, Fernando Bustos, disagree.
"Sal could have gone to any of the neighboring counties of Lubbock," said Bustos. "He could have gone to the Metroplex – anywhere else – and opened 100 stores and that wouldn't implicate this contract. But a deal is a deal. And I'm here to enforce that deal," Bustos said.
Did Sal break the deal? Is loaning money to his brother and leasing a building with equipment enough to be in the food business, or does it just make him a landlord?
"That's for a jury to decide. It's a fact specific question. And we've demanded a jury," said Bustos.
For Vitela, it's more than that. It's personal, his lawyer said.
"People that go to these restaurants, they've said, 'Hey, this tastes the very same.' And there's been confusion in the marketplace," Bustos said. "Customers will approach Mr. Vitela and say, 'Hey, I went to your new place over there, Papa V.' And he's like, 'Well, that isn't my restaurant.'"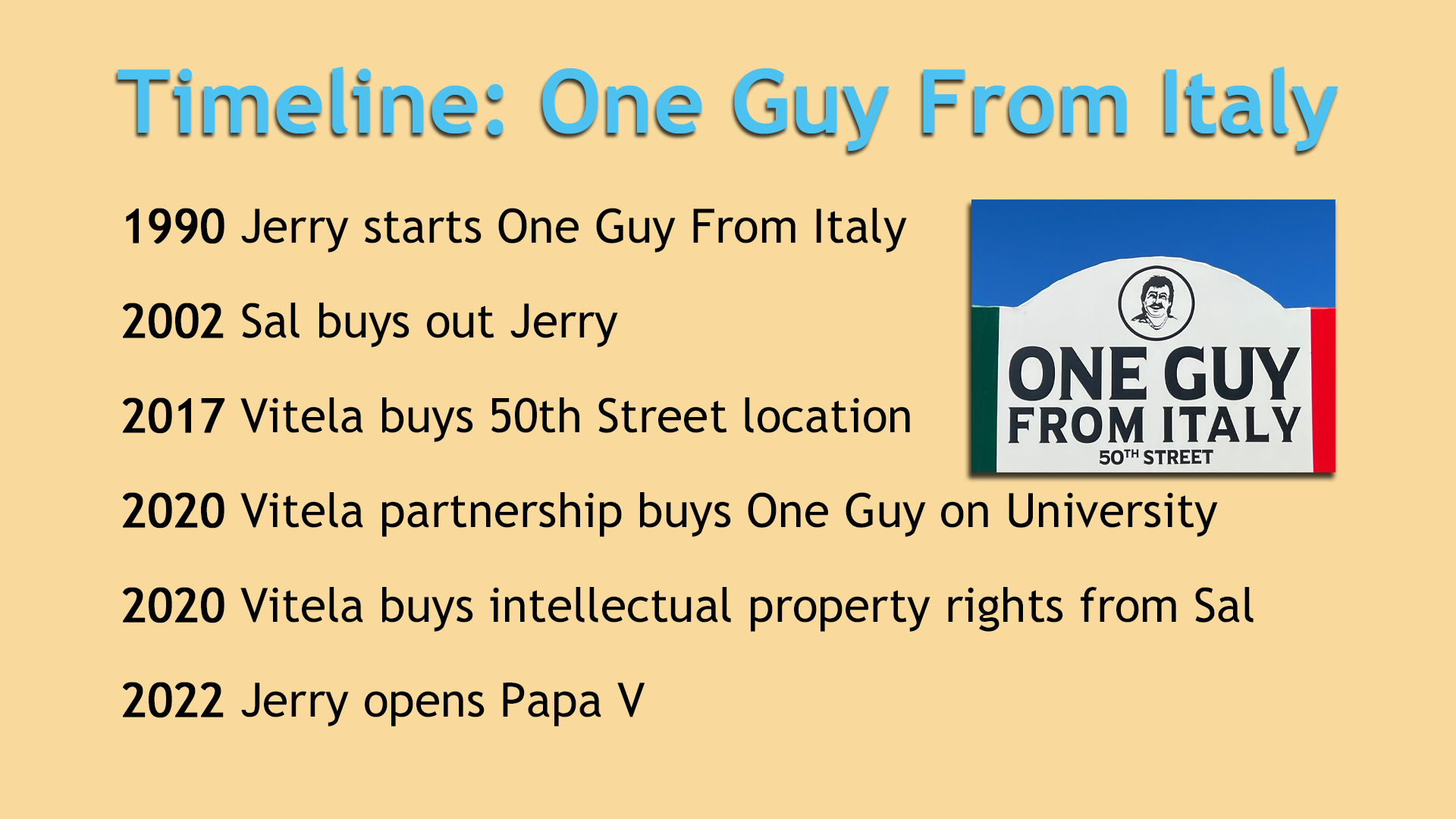 Sal represented himself as retiring as soon as the sale of One Guy From Italy at 4320 50th Street was complete in 2017, according to the lawsuit. The location at 1101 University Avenue was sold separately, according to court records.
"And so it feels like a real double cross for Gabe – beyond just the money, which is substantial," Bustos said. "And in West Texas, people don't put up with a double cross. I don't think a jury is gonna reward that at all."
Dennis pleaded otherwise in court records.
According to the papers Dennis filed, Sal did nothing wrong.  Sal has not done any of the work normally associated with a restaurant such as obtaining a business permit, according to Dennis. Sal does not own or operate Papa V.
In the official record, the Mazzamutos admitted Jerry opened a restaurant but not Sal.
Bustos disagrees.
"To the extent that Jerry is assisting in aiding and abetting his brother in breaching that non-compete, and they're working hand in glove together to breach that contract, yes," Bustos said.
Appeal to higher authority
Even before the case goes to trial, Dennis filed a document with the Seventh Court of Appeals in Amarillo. Dennis asked the higher court to force the local judge, Les Hatch, to toss out the lawsuit. Dennis claimed the judge should have dismissed the lawsuit and abused his discretion by letting it continue.
In a 114-page document, Dennis told the appeals court that renting property to Sal's brother is not enough to be in the food business. Generally speaking, Texas law prevents any agreement that keeps someone from working in a particular trade, Dennis wrote. There are exceptions to protect legitimate business interests.
"Vitela only claims that Sal assisted Jerry in unquestionably legal competition with Vitela," Dennis wrote to the appeals court. "It is clear that Vitela seeks to quash Jerry's competition, not Sal's."
Bustos and Vitela have not yet filed their response in Amarillo.
The lawsuit was still pending.  It sought both money and a court order against Sal to stop him participating in any food business in Lubbock County.
Read More:
Author: James Clark
- James Clark is the associate editor of Lubbock Lights. He worked in radio, television and digital media for a combined total of more than 30 years. He was Director of Digital News Content at KAMC, KLBK and EverythingLubbock.com for nearly 10 years.