In August 2022, Chad Raines made a half million dollar investment into a house just south of New Home, south of the Lubbock-Lynn county line.
"Love the school, love the community. The people were wonderful. Everything has been great until we ran out of water," Raines said.   
Raines is not the only one.  Some of his neighbors have the same problem, he said.  The homes are equipped with water wells, but the water supply in the area sometimes runs thin.  
Meanwhile, state law recently changed specifically to protect people just like Raines. Raines' neighbor, Alex Orr, is the developer for Cotton Creek Farms – a residential development.   
"It's definitely not a bad idea," Orr said of the new Texas law. But he knows it comes with a cost.  
Also, the High Plains Underground Water Conservation District #1 is available to help people know about water availability before they buy property.
No water in the shower
"You want to talk about getting in trouble. It's when your wife is in the shower and all of a sudden the water just shuts off because the well is dry," Raines said.   
The water trouble started in July. There's a gallon jug of water nearby just in case he has shampoo in his hair when the shower suddenly stops.  
"That's miserable because it's always ice-cold water at that point." 
"We cannot wash a load of laundry at the same time as run the dishwasher," Raines said. "We've had friends that were going to come out to our house and have dinner this summer. We had to cancel. We've had to move or change and go to a restaurant because we didn't have water."   
"It really is scary to think what's going to happen without water," Raines said.
His choices are to drill another well or install a water storage tank. Either way, he believes it'll cost around $12,000.  There's no promise these options will work.    
Two of his three neighbors drilled a second well.  The third one sees what's going on and worries about it, he said.
Raines' farming operation near Lamesa had to change drastically for the same reason. He can't pull enough water out of the ground to irrigate a cotton or peanut crop. So, he raises sheep in pastures that share space with solar panels.    
Raines really would like to get water from the nearby community of New Home, but Mayor Brad Emert is not confident the city can do that.  New Home has enough water for its current size – but not bigger.   
Emert wants to talk to Lubbock Mayor Tray Payne about annexation someday – maybe 15 or 20 years out – so New Home residents would then have Lubbock water.   
Raines believes Lubbock should be a willing water partner.   
"We eat in all the restaurants in Lubbock," Raines said. "We go to church there … we go to movies … we go watch Tech games … we go to the Buddy Holly Center."   
His family buys groceries in Lubbock – not Tahoka.  They go to both United and H-E-B. 
"We spend all of our money in Lubbock," Raines said.
Changing the law
Charles Perry, the state senator from Lubbock, pushed for and got a big change to state law. As of January 1, residential developers must demonstrate there's enough groundwater – if that's the source of water for new houses.    
"So now it is mandatory for people that are developing properties outside the city jurisdiction to actually have a conversation and produce either a hydrologist report or something like that," Perry said, during the recent South Plains Water Conservation Roundtable in Lubbock.
Previous Lubbock Lights coverage from the roundtable discussion: New homes in New Home foretell Texas water disaster  
"It guarantees that poor person that just spent their life savings on a 30-year-mortgage isn't going to be without water in five years. I'm shocked that the mortgage companies haven't made it a requirement," he said. 
Raines likes the idea of a report, saying, "I would have liked to have had one. I didn't realize that New Home was having problems. I hadn't seen anything." 
Because of the new law, there is now an administrative rule saying, "Groundwater availability shall be determined for ten years and 30 years and for any other time frame(s) required by the municipal or county authority."   
Cotton Creek gets ready for the change
Orr built some but not all the new houses in Cotton Creek Farms. Raines' home in Cotton Creek came from a different builder.  
Orr certainly agrees the new law gives comfort to people looking to buy a home.   
"An assurance for a buyer – that's fantastic," Orr said.     
"The thing that gives me heartburn is the upfront expense of drilling a well on each lot. The developer will incur that expense," he said.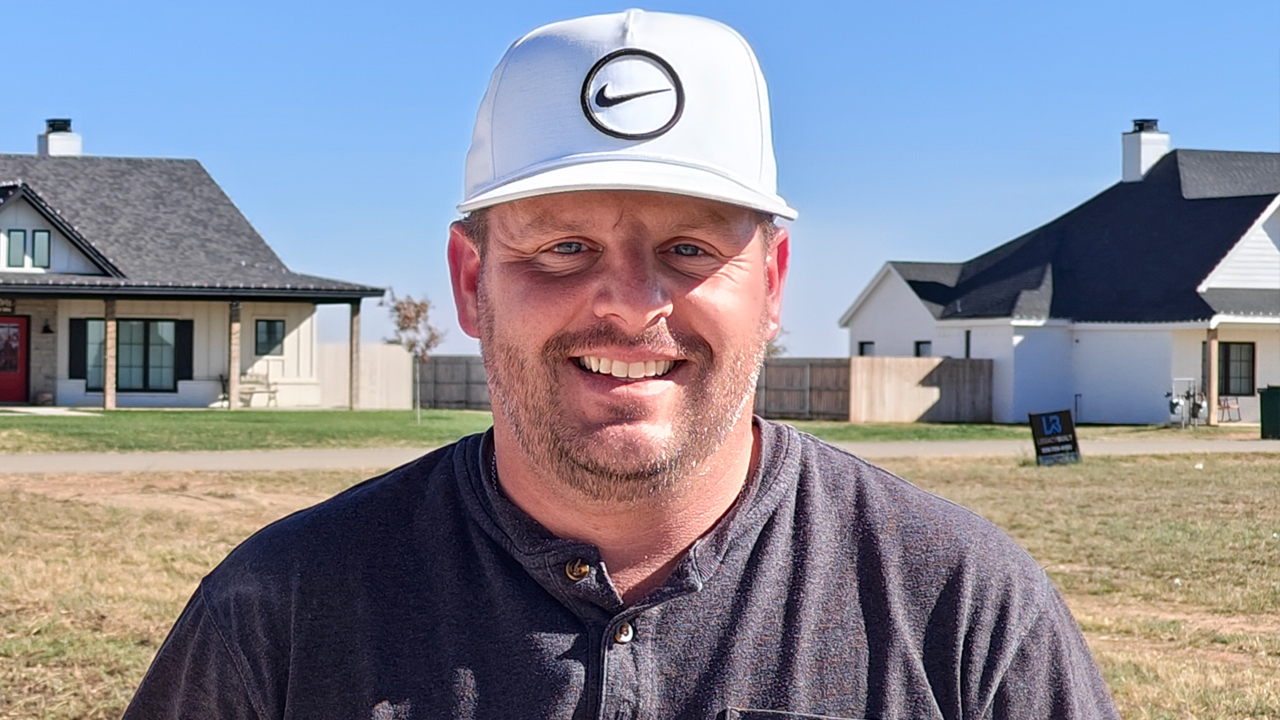 Orr was a banker. His dad started FirstBank & Trust.  
"My passion is real estate and it has been since before I went to college," Orr said.  So that's what he does now.   
And until recently, Orr had no desire to live outside of Lubbock. But his wife preferred the country life and convinced him to move south of Lubbock. They moved again specifically to get into the New Home School District.
He's very happy with the school and praises the teachers.    
"I bought a quarter section right here," Orr said, speaking to Lubbock Lights in front of the barn next to his house. "It's Cotton Creek." 
"I came out here before it was a fad," Orr said. It was not always "a thing," he said, but now it's "kind of a thing." 
Water was never a problem, he said, except one house only had seven gallons per minute. Orr put up the extra money for a storage tank before selling the house.    
He understands why Raines might think annexation into New Home sounds attractive. But when Orr heard Emert might want Lubbock to annex New Home, he responded, "I did not like that." 
"There's something about a small community," Orr said. His small community is growing. 
"I have a new phase.  I think it's 42 lots," Orr said of Cotton Creek.  He's got plans for another phase in another 6 or 7 years.  
"I have great water here," Orr said. But he's sympathetic for his neighbors who have trouble.   
He hadn't thought much of it until recently. Neither have other folks in Texas, according to Senator Perry. That needs to change, he said.  
A warning from the underground water district
"Please consult our office BEFORE you buy property," the High Plains Underground Water Conservation District #1 (HPWD) said online. 
"Many residents of HPWD rely on private water wells as their only source of water," the district said online. "HPWD has many resources and services to help residents understand groundwater availability."  
"About 75 percent of the calls we get throughout the course of our work here do concern questions of groundwater availability," said Jason Coleman, HPWD general manager.  "And that is ultimately related to the purchase of a property. It could be for a home site, and it could be for another reason." 
A color-coded document from HPWD works much like a treasure map, but the bounty is water, not gold. And X marks the spot only if it's dark blue. New Home is on the light blue portion – not as much bounty there.  
HPWD offers another chart that gives potential homeowners a guess as to how much water could come from a private well.   
One HPWD map is interactive. It shows the water in shades of gray. Darker is better. The area around the Raines home is not that dark. 
Don't want to hear 'too expensive'
New Home is not alone and Senator Perry pointed out to Lubbock Lights that communities in the Hill Country are also overextended on water supply.
Perry advocated for putting $1 billion of water projects to a vote in Proposition 6 that passed in the November 7 election. He said there are 1,200 new Texans every day, and they all need water. 
"I don't want to hear it's too expensive," Perry said at the roundtable discussion. "Because it's never getting any cheaper, and it's going to run out." 
Conservation is important, Perry said, but big new water projects are also needed including the use of desalinated ocean water in parts of Texas.  
Raines agreed, saying, "It's a horrible feeling when you just don't have water. I mean, there's nothing you can do." 
"I just feel like I'm out there on the island by myself. I'm just trying to, you know, face this battle alone," Raines said.    
"There wasn't a worse feeling in the world," Raines said when his water spigots ran dry.  
Author: James Clark
- James Clark is the associate editor of Lubbock Lights. He worked in radio, television and digital media for a combined total of more than 30 years. He was Director of Digital News Content at KAMC, KLBK and EverythingLubbock.com for nearly 10 years.